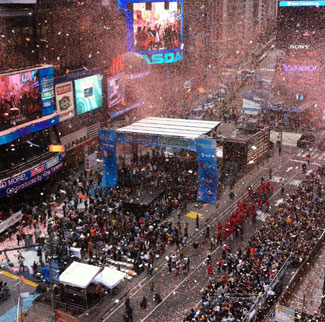 October 1, 2010 - With the culmination of Back 2 Broadway Month in September, which included events like the annual outdoor concert Broadway on Broadway, the fall season is in full swing throughout October.

Vanessa Redgrave and James Earl Jones star in the first Broadway production of Driving Miss Daisy, a story of an unlikely friendship between an elderly woman and her chauffeur. Alfred Uhry's Pulitzer Prize-winning play begins previews on October 7 at the Golden Theatre. Producers of the show have announced that a portion of the rear-mezzazine will be reserved for students at the Broadway premiere. Tickets will be available to purchase the day of the performance (October 25) at the box office with a valid student ID. To enhance the student experience, an in-depth, interactive Driving Miss Daisy study guide is also available at broadwaystudyguides.com.

Director Susan Stroman brings an infamous case of American injustice to Broadway with The Scottsboro Boys. The new musical by John Kander and the late Fred Ebb with David Thompson tells the story of nine young African-American men arrested and tried for a crime in rural 1930s Alabama. Previews start October 7 at the Lyceum Theatre.

Women on the Verge of a Nervous Breakdown comes to Broadway starring Patti LuPone, Sherie Renee Scott, Brian Stokes Mitchell and Laura Benanti. The new musical tells the tale of women in 20th century Madrid whose relationship issues lead to forty-eight hours of love, confusion and passion. Previews are scheduled to begin October 8 at the Belasco Theatre.

The Merchant of Venice moves from Shakespeare in the Park to Broadway with a limited run at the Broadhurst Theatre. Al Pacino stars as Shylock in this production directed by Daniel Sullivan; previews begin October 19.

Rain – A Tribute to the Beatles begins performances at the Neil Simon Theatre on October 19. A multimedia concert, Rain combines historical footage of the Fab Four with songs performed by the renowned Beatles tribute band.

Lincoln Center's presentation of A Free Man of Color starts previews beginning October 21 at the Vivian Beaumont Theatre. John Guare's play explores the political, racial and sexual culture of New Orleans in 1802, and stars Jeffrey Wright as Jacques Cornet, a wealthy Don Juan.

Directed by Jerry Seinfeld, Colin Quinn Long Story Short begins performances October 22 at the Helen Hayes Theatre. In the one-man show, Quinn narrates the history of the world in seventy-five minutes.

October 26 marks the first day of previews for The Pee-wee Herman Show, a Broadway production inspired by the Saturday-morning television program. Paul Reubens resumes his role as the bow-tied character at the Stephen Sondheim Theatre.