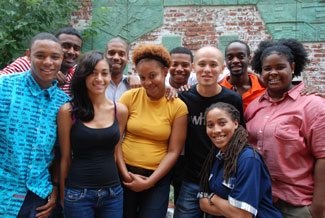 September 1, 2010 - Eleven New Yorkers just took their first steps into careers in the entertainment industry as Cycle 19 graduated from the "Made in NY" Production Assistant Training Program.

The program, which was developed in partnership between the Office of Film, Theatre and Broadcasting and Brooklyn Workforce Innovations, prepares diverse New Yorkers for entry level positions on film sets and in production offices through four weeks of free, intensive training taught by industry professionals. There are currently 239 certified "Made in NY" PAs working and advancing in their careers.

During Cycle 19's graduation ceremony, held for the PAs and their family and friends on August 6, program director Katy Finch told the graduates, "You all bring something very special to the job…you."

Associate program director Mara Prater marveled at how far the PAs had come since she first met them at the open house and try outs. "I'm so excited for you," said Sky Dietrich, the program's career retention specialist. "I can't wait to see you soar."

"This is day one of the next chapter of your lives," said Nancy Goldman, who specializes in placing the PAs on jobs after their certification.

The PAs were also given a chance to share their feelings on what the training has done for them. "You guys saw something in me that I didn't," said Jocelyn Jones. Others echoed that sentiment. "I learned a lot about myself," said Omari Miller.

"I'm thankful for this program," said Che Wade. "It gave me confidence. You made me feel like family."

"This is getting us on the ground floor so we can get our ideas on film," said Jasmine Pinckney.

Jennifer Lenihan, OFTB's director of client relations and community outreach, was also on hand to congratulate the PAs on completing their training. As part of the program, the PAs learn how to apply for permits at the Office of Film, Theatre and Broadcasting and how to work with local residents while filming on location in the City. "You are so lucky to have the expertise of BWI and the industry professionals," Lenihan told the group.

The newly minted "Made in NY" PAs are already making their mark. Darryl Prevost couldn't attend the ceremony that day because he was working on the HBO pilot, "Miraculous Year," directed by Kathryn Bigelow.