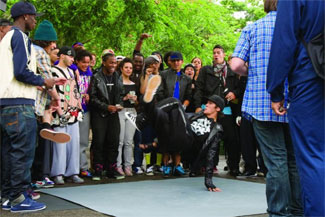 August 2, 2010 - A slew of "Made in NY" films will premiere throughout August.

The Other Guys stars Will Ferrell and Mark Wahlberg as NYPD Detectives and opens August 6. Living in the shadow of more seasoned and high profile cops, their lives change when they investigate a seemingly small case that turns into one of the biggest crimes they've ever seen.

Also opening on August 6 is Step Up 3-D, the third installment in the Step Up film series. Directed by Jon Chu, Step Up 3-D follows a group of young street dancers who compete in a hip-hop dance battle in New York City. The film stars Adam G. Sevani, Rick Malambri, Sharni Vinson and cast members from "So You Think You Can Dance."

Julia Roberts stars in Eat Pray Love, based on the best-selling memoir by Elizabeth Gilbert. Shot on stages in the City and on location internationally, the film follows Roberts who plays a recently divorced woman on a journey of self discovery as she travels to Italy, Bali, and India. James Franco, Billy Crudup and Javier Bardem also star. The film premieres on August 13.

Opening in limited release on August 27 is happythankyoumoreplease, written and directed by actor Josh Radnor. The film, which premiered at Sundance earlier this year, follows the lives of young New Yorkers struggling with their relationships and careers.

Drew Barrymore and Justin Long star in Going the Distance, a romantic comedy directed by Nannette Burstein that explores the challenges of a long distance relationship. The film opens on August 27.