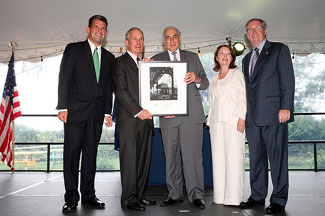 August 2, 2010 - Mayor Michael R. Bloomberg and Small Business Services Commissioner Robert W. Walsh presented the 2010 New York City Neighborhood Achievement Awards to 17 recipients from all five boroughs on Thursday, July 13. Among the honorees was George Kaufman, who received the Leadership Award and is the chairman of Kaufman Astoria Studios and the Kaufman Organization, a commercial real estate company.

"Many of New York City's local businesses and community members play a vital role making our neighborhoods great places to live, work and visit, and they deserve our recognition," said Mayor Bloomberg.

Established in 2002, the Neighborhood Achievement Awards honor organizations, businesses and individuals that have demonstrated excellence in enhancing New York City neighborhoods by fostering economic opportunity. Mayor Bloomberg and Commissioner Walsh presented the awards at a reception at Gracie Mansion.

"Great cities are built on great neighborhoods and I want to thank the awardees for their commitment to building strong communities and creating jobs and opportunities for New Yorkers," said Commissioner Walsh.

In 1980, Mr. Kaufman acquired Astoria Studios, a lone building in an underdeveloped area of Astoria. His vision was to create a vibrant, full-service production center capable of handling any type, size and style of production while also serving as a catalyst for neighborhood economic growth. Kaufman Astoria Studios is now the biggest film and television production studio east of Hollywood, making Astoria a world-class destination for film and television production.

The studio has created hundreds of jobs, provided office space for new tenants and attracted numerous businesses to the neighborhood, including national retailers, restaurants and a multiplex theater. The Kaufman Astoria Studios complex is also home to The Frank Sinatra School of the Arts, The Museum of Moving Image and the new Stage K, a 40,000-square-foot film and television production studio. The studio complex creates production, arts and business opportunities for current and future generations of New Yorkers.