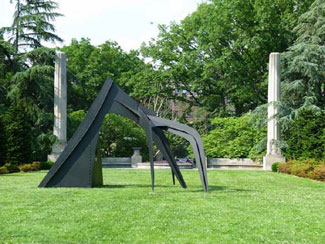 July 1, 2010 - This July, free public art exhibitions abound in parks, landmarks, street plazas, and other dynamic locations across the five boroughs. Here's a sample of public art projects in a borough near you.

Citywide
Play Me, I'm Yours, organized by Sing for Hope (until July 5, 2010)
- Play Me, I'm Yours brings live art to the center of commercial Manhattan, Brooklyn, Queens, The Bronx, and Staten Island with the installation of sixty upright pianos placed at strategic locations. For the two-week duration of the project, the pianos will feature formal and impromptu concerts by students, tourists, children, nannies, lawyers, doctors, merchants, and artists in an open festival of music involving all elements of New York's culturally diverse population. By making pianos available to all who pass by, Sing for Hope democratizes the arts and encourages exploration of music by all individuals. For more information, visit www.singforhope.org.

Governors Island
"The Sixth Borough", presented by No Longer Empty (until October 10)
- Visitors discover an alternate reality in this exhibit: an experience of the sensations and fascinating history of this unique place. For more information, visit http://www.govisland.com/.

Brooklyn
Le Guichet (The Box Office), on view at Brooklyn Botanic Garden (until the end of summer)
- Created by Alexander Calder in 1963, Le Guichet was presented to Lincoln Center as a gift in 1965. This spring, Lincoln Center invited Mayor Bloomberg to select any place in New York City to place the Calder for ninety days. After a citywide search, the Brooklyn Botanic Garden, which this year celebrates its centennial, was selected. The Garden is free for Seniors on Fridays, and free to the public on Tuesdays and until noon on Saturdays (except Saturdays of major public programs). For more information about Le Guichet and other programs at the Garden, visit www.bbg.org.

Manhattan
Statuesque, organized by the Public Art Fund (until December 2010) City Hall Park, Manhattan
- Featuring ten major works of art by Pawel Althamer, Huma Bhabha, Aaron Curry, Thomas Houseago, Matthew Monahan, and Rebecca Warren, the exhibition is the first time these artists have been shown together. For more information, visit http://www.publicartfund.org/statuesque/. Free and open to the public.

Queens
Cityscape: Surveying the Urban Biotope (until August 1, 2010)
Socrates Sculpture Park, Queens
- This exhibition will feature eleven artists who are exploring both the cultivated and invasive presence of nature in our built urban environment. Visit www.socratessculpturepark.org for more information. Free and open to the public.

Staten Island
Second Saturday's Gallery Walk (July 10, 6pm/ August 14, 6pm/ September 11, 6pm)
Various locations throughout the North Shore of Staten Island
- Second Saturday's is Staten Island's first gallery walk. Gallery owners and private citizens open their doors to passers-by, who want to take a peek at the great art that's being created on Staten Island. All of the places on the Second Saturday's walk are run by Staten Island artists. Exhibits and performances happen for the duration of the walk. Visit www.secondsaturdaystatenisland.com for a complete listing of all places and times. Free admission.

For more free public art exhibitions and events taking place across the five boroughs this summer, click here. A complete listing of more than 1,500 events can be found by visiting the official NYCulture Calendar or the Event Calendar at nycgo.com.