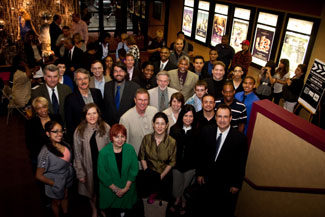 July 8, 2010 - Bronx Community College students from the Media Technology and Film Society Clubs along with the Media Technology Program of the Communications Arts and Science Department got to see their work on the big screen at the 17th Annual BCC Film & Video Festival, which took place on Wednesday, June 9th at Cablevision's Chelsea Clearview Cinema.

The annual festival creates an exciting atmosphere for students to show off their work to their fellow students as well as industry representatives. Production executives from the Eastman Kodak Company, Cablevision's Clearview Cinema, Avid Technology, the Independent Film Channel, Panavision, Barbizon Lighting and other companies were on hand to watch the films and present awards. Special thanks were also extended to Dr. Debra Gonsher, Chair of the Communications Arts and Sciences Department for her continued support for the festival.

The 2010 Eastman Kodak Student Filmmaker Awards were presented by DeWitt Davis, Eastman Kodak's Film School Liaison.

First prize: Sky's the Limit, directed by Armando Valeriano
Second prize: Run On, directed by Daarina Herriott
Third prize: Unforgettable, directed by Brian Zabala
Fourth prize: Finding Mike's Light, directed by Anthony Strader

Among the other students to receive awards that night were: senior Anthony Strader, who was honored with the first Steve Garfinkel Memorial Award for Excellence in Media; graduate Derrick Johnson, who received the Media Technology Marie Nesbitt Promise Prize, awarded each year to a Media Technology student who has demonstrated exceptional academic achievement and professional promise; Jeremy Quinones, who was presented with the Avid Technology Award for excellence in Television Non-Linear Editing; and Debra Isaacs, who was the recipient of the Peter J. Rondinone Screenwriting Award.

"You can see so much heart up there on the screen," said Professor Jeffrey Wisotsky, director of BCC's CAS Media Technology Program. "And it's only because the filmmakers were putting themselves totally on the line that these films exist. This was a very special evening for all of our BCC filmmakers."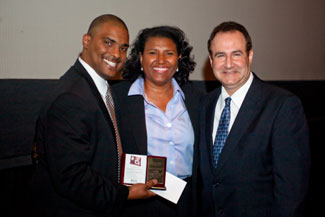 2010 Marie Nesbitt Promise Prize winner Derrick Johnson is joined by Vikki L. Pryor,
President and CEO of SBLI USA Mutual Life Insurance Company, Inc. and Professor Wisotsky.
Photo courtesy of Thomas Donley.