Award Recipients Include Angela Lansbury and Saturday Night Live, and Mayor Bloomberg Also Gives Special Recognition to Closing TV Shows
Law & Order and As the World Turns


June 7, 2010 - Mayor Michael R. Bloomberg today presented the fifth annual "Made in NY" awards to six individuals and organizations that have made significant contributions to the City's entertainment industry. Actress Angela Lansbury; commercial production company HSI Productions, Inc.; local not-for-profit Brooklyn Workforce Innovations; digital agency WFT Productions; filmmaker Lee Daniels; and Saturday Night Live, which will celebrate its thirty-sixth season this fall, were honored at a ceremony at Gracie Mansion hosted by Mayor Bloomberg and Mayor's Office of Media and Entertainment Commissioner Katherine Oliver.

"New York City continues to be a global center for entertainment and media, and tonight's honorees have all played an important role in our City's entertainment industry," said Mayor Bloomberg. "Not only are we honoring living legends and television institutions but also the dedicated production companies who are creating the latest forms of entertainment. The entertainment industry represents an important part of our economy, and we're finding innovative new ways to help it grow."

"Over the past five years, we've celebrated the achievements of some truly outstanding and talented New Yorkers, and tonight is no exception," said Commissioner Oliver. "We're thrilled that each and every one of them calls New York City home."

The Mayor gave special recognition to two long-running television series: NBC's Law & Order and the CBS daytime drama As the World Turns. Law & Order recently concluded with its twentieth season, tying Gunsmoke for the longest running American drama series of all time. Created by Dick Wolf and starring S. Epatha Merkerson, Jeremy Sisto, Anthony Anderson, Sam Waterston, Alana de la Garza and Linus Roache, the series employed thousands of New Yorkers each season. As the World Turns, which has taped in New York City since it premiered in April 1956, is currently the longest-running daytime drama on television. The series will air its final episode in September 2010.

At the ceremony, the Mayor also officially kicked off Internet Week New York, the annual weeklong festival highlighting New York's thriving internet industry and community through a series of conferences, exhibits and events. "Made in NY" honoree WFT Productions created the Office of Film, Theatre & Broadcasting's first mobile application. The app is now available on iTunes' App Store and the Android Market and provides smart phone users with data and GIS mapping on over 900 vendors offering special discounts of at least 10 percent to New York City film and television productions through the "Made in NY" Discount Card Program. Users can also search for vendors by zip code.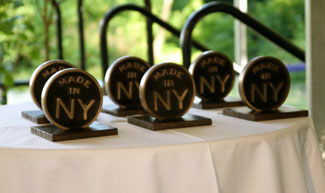 The Mayor's Office of Media and Entertainment is the newly formed agency that resulted from the merger of the Office of Film, Theatre and Broadcasting and NYC Media, the official network of the City of New York. The agency will include a new position – New York City's Chief Digital Officer – that will develop forward-thinking policies on social media, digital communications, and web initiatives to better serve the public.

Since 2002, the Office of Film, Theatre and Broadcasting has been at the forefront of the New York City's entertainment industry, supporting the film, television, music video, digital and commercial projects that shoot throughout the five boroughs. The City estimates that the film, television, commercial and music video industry supports employment for 100,000 New Yorkers and contributes $5 billion to the City's economy annually.


2010 "MADE IN NY" AWARD RECIPIENT BIOGRAPHIES


Angela Lansbury – Actress Angela Lansbury is a living legend of theatre, film and television. Her professional work spans nearly seventy years, first with success as a movie star, then as a four-time Tony Award-winning Broadway musical performer, and next as the star of Murder, She Wrote. In 2007, Ms. Lansbury returned to Broadway where she has since appeared in two plays and a musical, for which she has received three additional Tony nominations and a fifth Tony Award. She can currently be seen in the Broadway revival of A Little Night Music as Madame Armfeldt, having earned a Tony nomination for Best Performance by a Featured Actress in a Musical for her role.


HSI Productions, Inc. – Since its founding in 1986 by Stavros Merjos, HSI Productions has served as one of the premiere independent production companies in the world with offices in New York, Los Angeles, and London. Specializing in cutting-edge commercials and music videos, HSI Productions has produced content for world-renowned companies such as AT&T, General Motors, Coca-Cola, Pepsi-Cola, American Express, Kodak, and Nike. HSI has also created music videos for artists such as Madonna, Beyoncé, The Rolling Stones, and U2. HSI is affiliated with more than twenty of the industry's most talented directors, allowing the company to stay relevant and set trends in the short form production industry.


Saturday Night Live – NBC's Emmy Award-winning late-night comedy showcase just celebrated its 35th season last fall. Saturday Night Live is one of the longest-running network television programs in the United States, featuring hundreds of musical guests and celebrity hosts. SNL continues to garner the highest ratings of any late-night television program, entertaining millions each week. Hailed as a "truly a national institution," Saturday Night Live has won numerous awards since its debut, including twenty-one Primetime Emmy Awards and two Peabody Awards. SNL was inducted into the Broadcasting Hall of Fame and was placed seventh on Entertainment Weekly's list of the Top 100 Entertainers of the past fifty years.


Lee Daniels – Filmmaker Lee Daniels recent work includes directing Precious: Based on the Novel Push by Sapphire, which received six Academy Award nominations, including ones for Best Director (the second time an African-American was honored for this achievement) and Best Picture. Additionally, Precious was the winner of the Grand Jury Prize and Audience Award in the U.S. Dramatic Competition at the 2009 Sundance Film Festival. The film went on to win awards at major international film festivals including Toronto, Deauville, and San Sebastian. Daniels received a historic nomination as the first African-American director to be nominated by the Directors Guild of America.


Brooklyn Workforce Innovations –Brooklyn Workforce Innovations is a not-for-profit community-based network of social enterprises and job-training programs in South Brooklyn. Its mission is to empower low- and moderate-income people by creating living-wage employment opportunities and access to career paths. BWI offers free full-time training leading to industry-recognized credentials, followed by two years of job placement and career services. Brooklyn Workforce Innovations helps New Yorkers develop their careers in commercial driving, telecommunications cable installation, TV and film production, and skilled woodworking. Notable programs include the "Made in NY" Production Assistant Training Program, which has certified 228 "Made in NY" Production Assistants, and the "Made in NY" Production Crafts Training Program, which aims to help women, people of color and struggling New Yorkers prepare for advanced careers in film and television production.


WFT Productions – WFT Productions is a full-service digital agency based in New York City that creates unique mobile and web experiences. In 2009, WFT Productions won the NYC BigApps Contest Grand Prize for Best Overall App and the Data Visualization Grand Prize for Wayfinder Mobile, an augmented reality app that provides a live view of the nearest MTA subway stops using a smart phone's camera. WFT has done work for the City of New York and New York Cares, and its founding partners have broadly diverse backgrounds and experiences with brands including Apple, Kodak, Starbucks, BMW, IBM, and Microsoft.