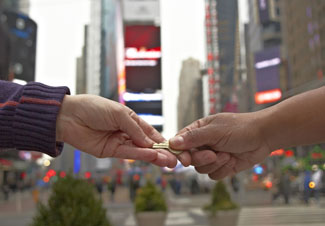 June 2, 2010 - For centuries, the key to the city has been used to honor a city's heroes and visiting dignitaries. Now, artist Paul Ramírez Jonas has created a Key to the City that is not only a symbolic award, but also a functional key—opening spaces across all five boroughs of New York City.

The Key to the City is granted to everyday citizens, who will award one another with the key for reasons large and small. Once in hand, the key launches a citywide exploration of back doors, front gates, community gardens, graveyards, and museums that suggests that the City is a series of spaces that are either locked or unlocked.

Keys will be distributed from the Key to the City kiosk on Broadway between 43rd and 44th Streets in Times Square. Keys are free, and visitors can bestow as many keys as they would like to friends and loved ones.

For public hours, information about the kiosk, and directions on how to retrieve, bestow and unlock your key, visit creativetime.org.

Make Music New York | Monday, June 21, 2010
Returning for its fourth year, Make Music New York (MMNY) is a festival of free concerts in public spaces throughout the five boroughs of New York City. Musicians of all ages, and musical persuasions — from hip hop to opera, Latin jazz to punk rock — perform on streets, sidewalks, stoops, plazas, parks and gardens.

Performances include:

- Punk Island 3 on Governors Island, with 12 hours of punk music from 100+ bands. 11am on Sunday, June 20th - 2am on Monday, June 21.

- In Mass Appeal, 20 groups of musicians that play the same instrument will band together at venues across the City to perform massive pieces composed and arranged especially for them. New additions in 2010 include 50 tubas in Lincoln Square, trumpets at Wall Street, and many more. 10am - 10pm, various locations.

- A series of interactive electronic music devices, set up on a path in the Meatpacking District for pedestrians to play with / listen to. 10am - 10 pm

- A New Orleans Second Line, with lead musicians from the Jazz Gallery, Jazzmobile, and Jazz at Lincoln Center parading through SoHo, Lincoln Square, and Harlem. 11am starting at WNYC Studios - 5pm ending in Harlem.

- Play Hard: The MMNY Corporate Challenge, with amateur musicians from midtown office buildings competing for glory in Bryant Park. 11am - 2:30pm

- A Central Park festival featuring the music of Greek composer Iannis Xenakis. Performances include Persephassa (1969) for six percussionists surrounding the Central Park Lake, a puppet show version of Xenakis's opera Oresteia in the Swedish Marionette Cottage, and more. 4pm - 9pm, main events at 7pm and 8pm.

- A Music Education Showcase in City Hall Park at noon, with middle school musicians from schools and arts organizations across the City. Some performers will make use of the "Play Me, I'm Yours" piano in City Hall Park. 11am - 1pm

For more information about Make Music New York, and a list of performances near you, visit makemusicny.org.