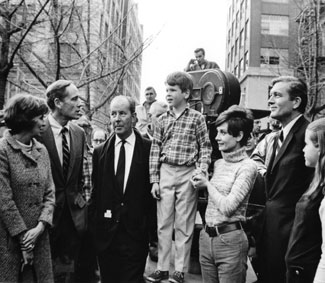 May 10, 2010 - America's Mayor: John V. Lindsay and the Reinvention of New York, an exhibition currently on display at the Museum of the City of New York until October 3, 2010, will examine the controversial career of New York's 103rd mayor, highlighting his ambitious initiatives to redefine New York's government, economy, culture, and public life.

The exhibition opens in 1965, depicting Lindsay's campaign with commercials, posters, fliers, bumper stickers, buttons, cartoons, and documents. Lindsay's commitment to minority neighborhood outreach and addressing the problems of "two cities, separate and unequal" will be shown through photos, video, and original documents. A unique section will show Lindsay visiting Harlem on the night of Rev. Dr. Martin Luther King Jr.'s assassination and his subsequent press conference.

Also shown are Lindsay's efforts to remake the city government through expanding its role in public welfare, public health initiatives, regulatory agencies, and focus on urban design in planning. This section will comprise striking renderings of built and proposed initiatives, along with Lindsay's emphasis on participation and decentralization.

To coincide with the exhibit, a PBS documentary, Fun City Revisited: The Lindsay Years, was broadcast on WNET/Channel 13. The documentary will also air on NYC life (channel 25) later this summer on Monday, July 5 at 10pm.

Also included in the exhibition will be movie posters showcasing The Godfather and The French Connection, lent by the Mayor's Office of Film, Theatre, and Broadcasting. MOFTB was established in 1966, during Mayor Lindsay's time in office, making it easier for productions to shoot on location in the City.