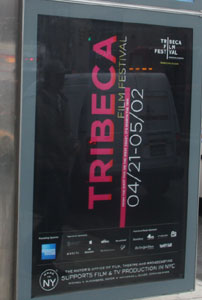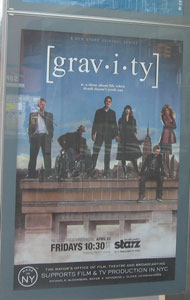 The Tribeca Film Festival and the new series 'Gravity' took part in the "Made in NY" Marketing Credit.
Photos courtesy of MOFTB.

May 10, 2010 - Local city bus shelters have highlighted a world renowned film festival and a new "Made in NY" TV series in recent weeks through the "Made in NY" Marketing Credit.

The Tribeca Film Festival, which recently concluded its ninth year, was displayed on bus shelters throughout the five boroughs, highlighting its tradition of celebrating local and international films.

The new Starz series "Gravity," which airs Fridays at 10:30pm, is also featured on bus shelters. The "Made in NY" show follows the exploits of an eccentric group of suicide survivors.

The "Made in NY" Marketing Credit provides free advertising on city bus shelters to productions that shoot 75% of their work in New York City and local cultural festivals.