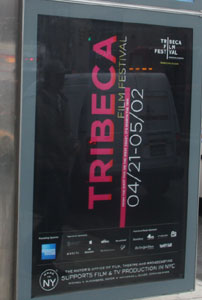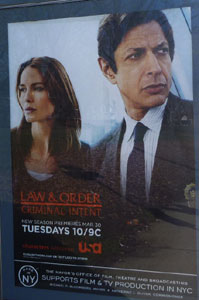 The Tribeca Film Festival and "Law & Order: Criminal Intent" currently grace local bus shelters.
Photos courtesy of MOFTB.


April 1, 2010 - A world famous film festival and a long-running TV series are showcased this month on City bus shelters, thanks to the "Made in NY" Marketing Credit.

Celebrating filmmaking for twelve days throughout the City, the Tribeca Film Festival is currently being promoted in the five boroughs on local bus shelters. The Festival features a wide variety of films, including several "Made in NY" productions.

"Law and Order: Criminal Intent," which just returned for its ninth season, is also appearing on several bus shelters around the City. The series, which stars Jeff Goldblum and Saffron Burrows, airs on USA on Tuesdays at 10pm EST.

The "Made in NY" Marketing Credit provides free advertising on city bus shelters to productions that shoot 75% of their work in New York City and local cultural festivals.