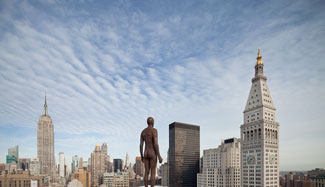 March 1, 2010 - From March 26 through August 15, 2010, the Madison Square Park Conservancy will present Antony Gormley's Event Horizon, a landmark public art exhibition, as part of Mad. Sq. Art 2010.

In Event Horizon, thirty-one life-size body forms of the artist cast in iron and fiberglass will inhabit the pathways and sidewalks of Madison Square Park, as well as the rooftops of the many architectural treasures that populate Manhattan's Flatiron District.

Antony Gormley originally created Event Horizon for London's Hayward Gallery as part of the Blind Light exhibition in 2007. The sculptures were installed on bridges, rooftops and streets along the South Bank of London's Thames River. In this New York incarnation, Antony Gormley has adapted this project to Manhattan's unique and iconic skyline. Event Horizon marks Gormley's United States public art debut.

Mad. Sq. Art is the free gallery without walls presented by the Madison Square Park Conservancy in the historic 6.2-acre park located at 5th Avenue and 23rd Street.

Visit www.madisonsquarepark.org/programs/madsqart.aspx for more information.