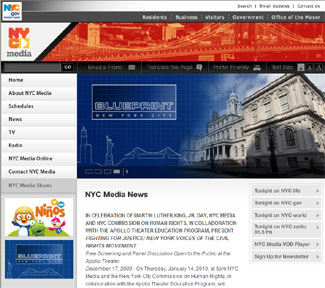 January 4, 2010 - NYC Media, the official TV, radio, and online network of New York City, has relaunched its website with a new look and easy-to-use navigation. The website now features over 350 NYC Media programs that can be watched online using the NYC Media Video on Demand Player.

Programs that are currently available include "$9.99," "Eat Out New York," "NY Noise," "Blueprint NYC," "Eat Out Time Out," "Secrets of New York," "City Scoop," "It's My Park," "Summer Stage," "Cool in Your Code," "NY 360°," and "That's So New York." Videos are organized by program title, category, borough, and most recently added.

Also on nyc.gov/media, you can sign up for the newsletter, check out the schedules for all of NYC Media's assets – NYC life, NYC gov, NYC world, NYC drive, and NYC radio 91.5FM – and check carrier information to find out where to watch NYC Media on your TV. You can also follow links to iTunes to download season one of "Blueprint NYC" for free.

Be sure to bookmark www.nyc.gov/media and check back for frequent updates on programming and new videos.