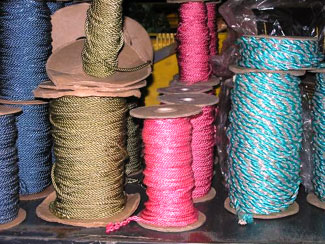 January 4, 2010 - 2009 may be over, but it isn't too late to brush up your poetry, learn a dance step, explore a new experiment, or improve your wool-spinning technique! Join hundreds of New Yorkers and learn a new artistic skill in 2010. Find a class today by visiting the NYCulture Calendar at www.nyc.gov/nyculture.

Mark Morris Dance Center, Adult Dance Classes
Classes Offered Daily
Adult dance classes in ballet, modern dance, Afro-Caribbean, belly dancing, Pilates, West African and yoga take place weekly at Mark Morris Dance Group. Advanced Ballet is taught daily from 10am to 12pm by Wallie Wolfgruber and Kelly Slough. Classes are on a drop-in basis. Single classes are $13. Visit www.mmdg.org for a full schedule.
3 Lafayette Avenue, Fort Greene, Brooklyn. Visit www.mmdg.org or call 718-624-8400 for more information.

Wave Hill, Winter Workspace Drop-in Program: Spinning and Knitting Wool
Classes begin January 9, 2010, 11am - 3pm
Spin or knit with artist Robyn Love every Tuesday and Saturday in January and the first half of February, as she demonstrates the art of spinning wool dyed using plants found in the Hudson River region. Ages 10 and up welcome with an adult. Admission is free until noon. Pre-registration recommended at www.wavehill.org.
W 249th Street and Independence Avenue, Bronx. Visit www.wavehill.org or call 718-549-3200 for more information.

New York Hall of Science, Free Friday Afternoon Hours 2pm - 5pm
January 1 – December 31, 2010
Families can visit the New York Hall of Science for free on Friday afternoons from 2pm - 5pm and learn in the Museum's hands-on exhibitions.
47-01 111th Street, Queens. Visit www.nysci.org or call 718-699-0005 for more information.

Educational Alliance Art School, Art Workshops for Beginners
January 9, 2010, 11:30 am - 4:30 pm
Come to the Educational Alliance Art Schools Art Workshops for Beginners to try out a class before committing to a full course and make an artwork to take home! The 2-hour hands-on art workshops are just $20 with materials included. Available workshops include drawing, portrait drawing, clay molding, abstract painting, photography and welding. Register on or before the Open House (Jan 7.) and save on tuition.
197 East Broadway, Lower East Side, Manhattan. Visit www.edalliance.org/artschool or call 646-395-4236 for more information.

China Institute, Poetry and Painting Short Course
January 12, 2010, 6:30 pm - 8:30 pm
Poetry, held in the highest esteem in classical Chinese culture, is paired with calligraphy and painting. This four-session course, given by Prof. Ben Wang, focuses on the study and discussion of selected paintings with poems by four masters. Per session $35, members $30.
125 E 65th Street, Manhattan. Visit http://chinainstitute.org or call 212-744-8181 for more information.