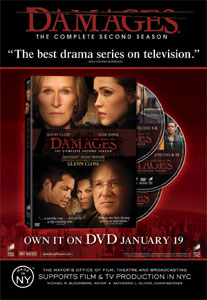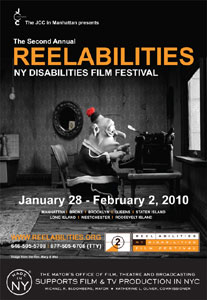 'Damages' and the Reelabilities Film Festival are currently showcased on local bus shelters.
Photos courtesy of MOFTB.

January 4, 2010 - City bus shelters are currently showcasing a local film festival and the DVD release of an Emmy award-winning "Made in NY" series as part of the "Made in NY" Marketing Credit.

Eighty-six bus shelters are promoting the DVD release of the complete second season of "Damages" throughout the five boroughs. The DVD comes out on January 19; the third season, which stars Glenn Close, returns on January 25 on FX.

Also highlighted on bus shelters is the Second Annual ReelAbilities: NY Disabilities Film Festival. The festival promotes filmmakers with different abilities with screenings beginning on January 28 throughout the City.

The "Made in NY" Marketing Credit provides free advertising on city bus shelters to productions that shoot 75% of their work in New York City and local cultural festivals.