Jonathan Wu


Each month we showcase an individual who participated in the "Made in NY" PA Training Program. Click here for information on the free, month-long program developed in conjunction with Brooklyn Workforce Innovations and designed to create job opportunities for New Yorkers, connect New Yorkers with employers in the industry, and educate production assistants on how to work collaboratively with the communities in which they shoot.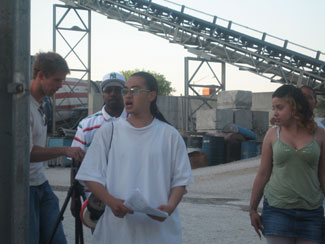 September 2, 2008 - Growing up in Queens, Jonathan Wu knew he wanted to work in film production. He interned on a few films, but it wasn't until he saw an ad on a bus shelter advertising the "Made in NY" Production Assistant Training Program that he was able to take his first real steps to making his dreams come true.

Wu graduated from the program in February 2007. The "Made in NY" PA Training Program, developed in partnership with the Mayor's Office of Film, Theatre and Broadcasting and Brooklyn Workforce Innovations, offers four weeks of free training for New Yorkers interested in getting their start in the industry. "They really show you the ropes," said Wu. "Katy Finch was a great mentor. The training helped me prepare and feel confident for my first job."

Wu has worked on a variety of productions like Achamundu! Achamundu!, which translates to I'm Scared! I'm Scared. On the latter production, he was the key PA, organizing the other PAs and shuttling the crew back and forth to the set. His work on these films has provided great networking opportunities. A producer he's worked with in the past is now consistently calling him for more jobs. Soon he will be the 2nd AD on an upcoming film.

"Before the training program, I didn't know what I wanted to do in film," said Wu. After graduating, "I saw how production really works. Now I want to stay in feature films and become an AD."

To achieve this, he'll follow the advice he'd give to any future "Made in NY" PA: "Have strong desire. Stay focused. Stay positive. Be confident in yourself."

Interested in learning more about the "Made in NY" PA Training Program? Click here.