Tsahai Wilson


Each month we showcase an individual who participated in the "Made in NY" PA Training Program. Click here for information on the free, month-long program developed in conjunction with Brooklyn Workforce Innovations and designed to create job opportunities for New Yorkers, connect New Yorkers with employers in the industry, and educate production assistants on how to work collaboratively with the communities in which they shoot.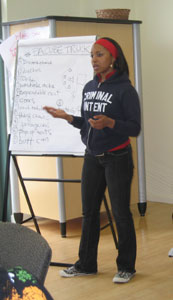 August 1, 2007 - It's a well known movie cliché that at some point during a film's student-teacher dynamic, the student, in fact, becomes the teacher. Life has imitated art (at least, in this context), in the form of Tsahai Wilson, a "Made in NY" PA from Cycle 3.

Wilson, who is currently a production secretary for the film "See You in September", is a year out of the "Made in NY" PA Training Program. Directly after graduation she was placed as an office PA on the set of Law & Order: Criminal Intent. After a full season at Criminal Intent, she is now working for See You in September, a feature film starting production next week. One of her responsibilities includes training PA's on set of the film. "It's interesting to be on the other side," said Wilson. "Luckily, I could go to them with stories about my experiences in the industry."

Before applying to the "Made in NY" PA Training Program, Wilson aspired to be in front of the camera. While browsing Craig's List for acting jobs, however, she stumbled upon an advertisement for the program, and realized that, regardless of where she stood in relation to the camera, she wanted to work in entertainment. Now, after a year of long hours and hard work, Wilson is sure she made the right choice.

"As a woman, there is more longevity behind the camera. There isn't a focus on exteriors," said Wilson. "Instead, people focus on your intelligence." Wilson aspires to be a producer, and loves coming in to the office every day.

"It's never the same," Wilson said about working in the entertainment industry. "You're always learning, always changing. You don't get bored. I like working with people who talk about film and take it seriously, making it more than small talk."

So, for the many New Yorkers out there who are starting off in the industry or interested in becoming PA's, take heed – Wilson offers sage advice. "What I tell our PA's is the same thing I learned from the program: to ask the right questions, to not be afraid to ask questions, to take notes, and to simply use common sense and good judgment. We struggle with long days and long hours, but you have to stay focused if this is really what you want." Spoken like a true teacher.

Interested in learning more about the "Made in NY" PA Training Program? Click here.