Lee Walker


Each month we showcase an individual who participated in the "Made in NY" PA Training Program. Click here for information on the free, month-long program developed in conjunction with Brooklyn Workforce Innovations and designed to create job opportunities for New Yorkers, connect New Yorkers with employers in the industry, and educate production assistants on how to work collaboratively with the communities in which they shoot.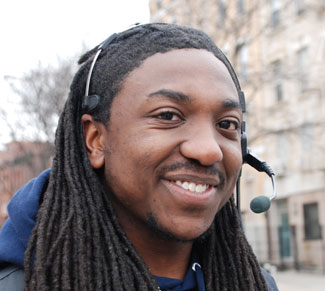 May 2, 2012 - Lee Walker had always been fascinated with film, but it wasn't until high school that he realized it was even possible to work in film and television. "The idea of creating a blend of art and business pushed me toward pursuing film," he said.

After attending Brooklyn College as a film production major, he learned about the program from a friend who was already "Made in NY" PA. Walker decided to apply and was admitted into Cycle 17. "My experience in the program was great!" he said. "Meeting like-minded people with goals similar to mine gave me that extra push and confidence to continue my efforts in film."

The Brooklyn resident became a certified "Made in NY" PA himself in February 2010, and has worked on a range of projects. He's done commercials (Febreeze, Mr. Clean), reality shows ("Design Star," "Celebrity Apprentice"), television shows (like those featured on Adultswim), and independent films (Ma' George, Legacy). At the moment, he's working as a gaffer on his first feature film, The Longest Swim.

His time on various sets has had its ups and downs, but, he said, it's always been a learning experience. "My favorite part would have to be meeting new people on set everyday and always learning something new," he said.

Walker's plans for the near future are to do only paid grip and electric jobs. Down the line, he hopes to become a gaffer in the union.

He also has some advice to share with anyone considering the "Made in NY" PA Training Program: "Take it slow; plan out in detail what your goals in film are. And work hard towards them. Meet and greet everyone on set and make friends because you never know who they'll be [or what they'll be] doing in five years."

Interested in learning more about the "Made in NY" PA Training Program? Click here.