Edgar Velez


Each month we showcase an individual who participated in the "Made in NY" PA Training Program. Click here for information on the free, month-long program developed in conjunction with Brooklyn Workforce Innovations and designed to create job opportunities for New Yorkers, connect New Yorkers with employers in the industry, and educate production assistants on how to work collaboratively with the communities in which they shoot.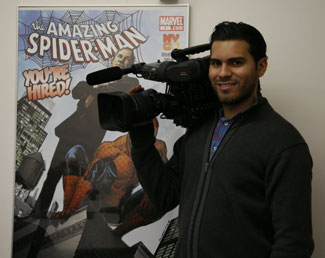 January 3, 2011 - Six months ago, Edgar Velez was working in retail, looking to try his hand at doing something completely different. Now he's graduated from the "Made in NY" Production Assistant Training Program and has learned the skills he needs to excel in production.

After graduating from Cycle 18 in May, the Brooklyn native's first job was as an emergency PA on a commercial for Free Credit Score. "It was fun," he said. "I got to see the bands trying out."

Other credits include National Geographic's "Museum Discoveries," Premium Rush, various reality shows like TLC's "Four Weddings" and DIY Network's "Ten Grand in Your Hand." It was during that production that he learned a lot about cameras. "I like cameras, working with the compositions of things, how with lighting and the right exposure you can make something beautiful," he said.

For the past several weeks, he's worked at NYC Media, the official network of the City of New York, as a grip and camera operator. He's shot City Council hearings and b-roll for NYC life's shows "That's So NY" and "$9.99 Minute." He's also worked as a grip, setting up lights, when NYC Media covers Mayor Bloomberg's press conferences.

He's enjoyed the position because it gives him the opportunity to get to know a lot about different types of cameras. "I'm getting more comfortable and familiar with them," he said. A highlight of his time with NYC Media has been working at the announcement when the Mayor unveiled the special edition "Spider-Man, You're Hired" comic at Midtown Comics in November. "I love comic books," he said.

His future plans include shooting other projects and doing more PA work. He hopes to put a reel together so he can work more as a camera operator.

Velez credits his accelerated work experience to determination and focus. "I graduated in May, and since then have been focused on cameras, and look what happened. I put all my energy into that and now I'm shooting all the time."

Interested in learning more about the "Made in NY" PA Training Program? Click here.