Tashia Valverde


Each month we showcase an individual who participated in the "Made in NY" PA Training Program. Click here for information on the free, month-long program developed in conjunction with Brooklyn Workforce Innovations and designed to create job opportunities for New Yorkers, connect New Yorkers with employers in the industry, and educate production assistants on how to work collaboratively with the communities in which they shoot.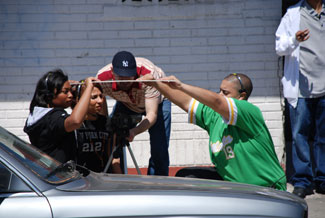 July 1, 2011 - For Tashia Valverde, the challenges and obstacles that she was faced with when trying to break into the entertainment industry pale in comparison to the success she has gained in just over one year. Valverde, a Queens native, decided to pursue her dream career in the entertainment business after temping at various agencies and not finding steady work.

"I have always been interested in the behind the scenes aspect of the motion picture and television industry," said Valverde, "and I knew that I needed to be a part of it in some aspect."

To get her foot into the door of the entertainment industry, Valverde applied for the "Made in NY" Production Assistant Program. Within a few months after graduation in May 2010, she was sent on an interview by Nancy Goldman, BWI's job developer, at the production company Embassy Row. Within a few days she called the program to tell them she got the job. After six months as an office PA she was promoted and was able to hire another "Made in NY" grad in her place. Some of the projects Valverde has worked on include Food Network's "Chopped," Oxygen's "The Glee Project," Bravo's "Watch What Happens Live" and VH1's "Love & Hip Hop Reunion."

Her most memorable experience was doing lockup at 4am in a Brooklyn factory inhabited by rodents. Joining Valverde and the rats was her fellow production crew. "To an outsider it might sound miserable, but to all of us there, it was an experience we won't forget. That's what happens when you are working on a production; you share all these memories with great people and that's what you take away from it at the end of the day."

Every day for Valverde is unique, and to her, that's the best part. "My favorite part of working in production is the varying atmosphere," she said. "With different challenges, you learn new things and you learn to quickly adapt to any situation, which makes you a powerhouse no matter what part of production you plan to work in."

Working with the people she used to watch on TV has been a dream come true. Her long term goal of being an executive producer is well within reach, thanks to her inspiring "Made in NY" instructors. Reflecting on her four weeks of intensive training, Valverde said that after graduating, she knew there would be many challenges, but thanks to her amazing instructors, "I am now prepared to face those challenges head on."

Interested in learning more about the "Made in NY" PA Training Program? Click here.