Heyward Thomas


Each month we showcase an individual who participated in the "Made in NY" PA Training Program. Click here for information on the free, month-long program developed in conjunction with Brooklyn Workforce Innovations and designed to create job opportunities for New Yorkers, connect New Yorkers with employers in the industry, and educate production assistants on how to work collaboratively with the communities in which they shoot.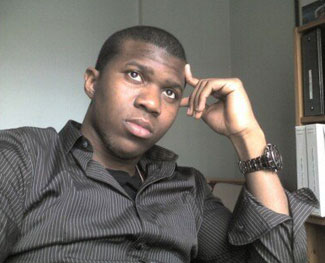 January 4, 2010 - When Heyward Thomas left his job as an assistant manager at Radio Shack, he knew what he didn't want to do in his next job. "I didn't want a normal 9 to 5 job," he said. "It had to be something I enjoyed as a profession or something that gave me the chance to grow." He found just such an opportunity through the "Made in NY" Production Assistant Training Program.

Thomas left his job with Radio Shack because he didn't see himself going anywhere with it. He wanted to go to school but couldn't really afford it. One day, he found a brochure outside his grandmother's house in Brooklyn for the "Made in NY" PA Training Program. Becoming a part of Cycle 2, he learned how to set up a production office, lock up a set, and use a walkie talkie, among other useful skills a PA needs to work in New York City.

His first job after becoming a certified "Made in NY" PA was with NYC TV's "Secrets of New York" as an intern. That was quickly followed by a stint with the NBC series "Kidnapped." He was originally hired for just one day to set up the production office and make copies, but the production coordinator was so impressed by his attention to detail when he started to take notes, he was asked to stay for the rest of the season. "I tried to always be on top of things," he remembered.

Work on commercials and features followed until he interviewed for a PA job with "Law & Order: Criminal Intent." He didn't expect much from the interview because he arrived soaking wet and caught a cold but he knew something good had to come out of the experience, and it did: he was hired as the production office PA.

Thomas, who's been writing since the age of thirteen, made sure to also get to know the writers on the staff. When Warren Leight, the showrunner at the time, found out Thomas was interested in writing, he sat down with him over coffee to discuss his options. Thomas then took the initiative during the show's hiatus between seasons and volunteered to work for the writing staff. When the new season started, he became the writers' PA, and in season 8, he became the script coordinator, working with the writers to ensure continuity, clearing names, numbering the scenes and more.

"I love it," Thomas said. "It gives me insight into how a script is maintained. It's very hands-on getting to work with the writers."

He hopes to one day join the Writers Guild of America and write his own feature length screenplays.

"The ["Made in NY" PA Training] Program has truly been a blessing," he said. "I didn't expect all this. The program has been such a door opener, and, as they say, I'm going to ride this thing till the wheels fall off."

Interested in learning more about the "Made in NY" PA Training Program? Click here.