Jay Scala


Each month we showcase an individual who participated in the "Made in NY" PA Training Program. Click here for information on the free, month-long program developed in conjunction with Brooklyn Workforce Innovations and designed to create job opportunities for New Yorkers, connect New Yorkers with employers in the industry, and educate production assistants on how to work collaboratively with the communities in which they shoot.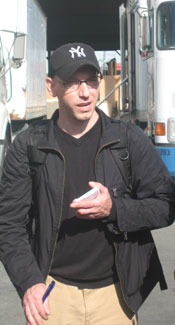 November 2, 2008 - Boot camp for PAs is one way to describe the "Made in NY" Production Assistant Training Program. Several "Made in NY" PAs have been through boot camp twice then – first in the U.S. Armed Forces. Cycle 12, which graduated October 17, included four veterans.

One of them is Jay Scala, a Queens resident who served four years in the U.S. Army, including 15 months infantry duty in Iraq. Jay had dreamed of working in the movies since he was three years old, but growing up in a blue collar home, it seemed like something "other people did."

Looking for a challenge, Jay enlisted in the Army and was deployed to Baghdad in 2003. There he rose to the rank of Infantry Squad Leader for Combat Operations. His performance as a paratrooper and team leader earned him the ARCOM Award.

After more than a year in combat, the transition to civilian life was not easy. "Some things I saw there stayed with me. When I came home I felt I didn't fit in anywhere and had a hard time relating."

But in the "Made in NY" PA Training Program, as on the battlefield, Jay excelled. "Jay is always on time, never complains; he's the first to volunteer for a difficult task," said Katy Finch, the program director. She welcomes New Yorkers with military experience who are looking for a new direction.

Katy assigned Jay to No Love in the City, an independent feature, for his on-the-job training internship. She wasn't surprised when the 2nd AD asked Jay to come back as a paid set PA after graduation.

Jay is proud that his Army service is helping make his childhood dream come true.

"I would love to go back to Fort Bragg and tell the young guys that it's perfect training for film."

Interested in learning more about the "Made in NY" PA Training Program? Click here.