Yancy Rodriguez


Each month we showcase an individual who participated in the "Made in NY" PA Training Program. Click here for information on the free, month-long program developed in conjunction with Brooklyn Workforce Innovations and designed to create job opportunities for New Yorkers, connect New Yorkers with employers in the industry, and educate production assistants on how to work collaboratively with the communities in which they shoot.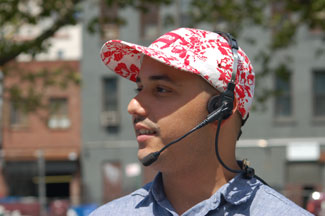 March 2, 2009 - Fresh off his latest PA gig on the set of a German "Made in NY" movie, Yancy Rodriguez, a graduate from Cycle 11 of the "Made in NY" Production Assistant Training Program, has been working steadily since July 2008, earning a foothold in production and making his way up the career path into the art department.

Born and raised in the Lower East Side of Manhattan, his father moved back to the Dominican Republic when Rodriguez was 17. He and his three sisters learned to live on their own. Rodriguez got a job as a busboy and worked six days a week to help support the family. During this time he would see productions film all over his neighborhood and the city. "Rivington, Delancey, Essex. They were always there, a part of New York," he said.

"When I watched TV, I always wanted to know the process that is taken to make something so meticulously perfect – for example the cereal boxes in the 'Seinfeld' set or matching a character's shirt to the walls of the restaurant the scene is set in," he remembered. Working in production and set building was something he was interested in, but he wasn't sure how to make the leap into it. Then a friend mentioned the "Made in NY" PA Training Program.

In his third week of training, Brooklyn Workforce Innovations, which runs the program, placed Rodriguez on an internship with I Hate Valentine's Day, an indie feature. After graduation, the production offered him a position as a PA in the Art Department. Since then, he has been working consistently on movies and commercials.

He's also identified a long-term goal: to be an art director. Each opportunity he has on set, Rodriguez looks for chances to build his skills. This persistence has paid off. On a commercial for Bloomberg TV he had the "great experience" of being in charge of compiling and sorting all the props for the shoot.

Rodriguez recently had an opportunity to hone his new skills in his old neighborhood. Over a weekend shoot, a Snickers candy bar commercial brought NBA-great Patrick Ewing to a LES schoolyard. Rodriguez assisted in rigging a light wood frame with a small amount of explosives. "We blew up a backboard," he explained. "It was crazy!"

He expresses some of the same wonder when he looks back at what he's accomplished in the six months since completing his training by summing it up simply: "Being a part of the program changed my life."

Interested in learning more about the "Made in NY" PA Training Program? Click here.