Gabrielle Rivera


Each month we showcase an individual who participated in the "Made in NY" PA Training Program. Click here for information on the free, month-long program developed in conjunction with Brooklyn Workforce Innovations and designed to create job opportunities for New Yorkers, connect New Yorkers with employers in the industry, and educate production assistants on how to work collaboratively with the communities in which they shoot.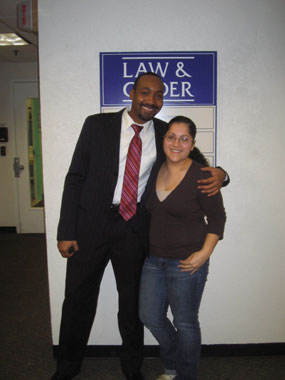 April 1, 2007 - Gabrielle Rivera always wanted to work in entertainment production, but after applying to a number of jobs she started to lose hope.

"I sent out so many emails – even some just asking if they had positions available – to no response," said Rivera.

Unemployed, Rivera was at the point where she became complacent with the idea that she would just have to find work in a different field. But after months of searching for work online, Rivera stumbled upon an advertisement for the "Made in NY" Production Assistant Training Program. She applied to the program and was accepted, entering in the spring of 2006. After participating, Rivera found work in everything from commercials to her current role as a Law & Order office PA.

"My first job was the set of the "Mac vs. PC" commercials," explained Rivera. "The director made a huge announcement at the end of the shoot that it was my first job. Everyone on set clapped for me! It was a great welcome to the industry."

Working in a lofted area space at Chelsea Piers, Rivera now comes into the Law & Order offices daily, dealing with everyone from key grips, to producers, to talent on the show.

"My biggest job is handling read-throughs," explained Rivera. "On read-throughs I set up the call with LA, get scripts ready, and make sure everything is well-planned. I do that about two or three times a week."

Rivera currently sits at a desk across from Kelly Glover, who is the assistant to the Matthew Penn, an executive producer on the show.

"She's a real pleasure to work with. She has a great attitude about the whole process," Glover said about Rivera. "I can be really difficult," chuckled Glover. "But it didn't take her too long to grasp how every little part works."

Rivera has come to appreciate the team aspect of working at the Law & Order offices. Some of this is due to her training with the "Made in NY" PA program. "[The program] was such a supportive place – everyone treated you equally," said Rivera. "I learned that you have to be humble. You have to know your role. You have to put your ego aside. In this job, you're part of a greater machine."

Now, she hopes to take her knowledge of the entertainment production industry and apply it to her newfound dream. "I want to direct music videos one day," explained Rivera. "It's a lost art. There's so much you can do in 4 minutes. But before doing that, I want to work some more, meet as many people in as many situations as I can."

Interested in learning more about the "Made in NY" PA Training Program? Click here.