Mike Represa


Each month we showcase an individual who participated in the "Made in NY" PA Training Program. Click here for information on the free, month-long program developed in conjunction with Brooklyn Workforce Innovations and designed to create job opportunities for New Yorkers, connect New Yorkers with employers in the industry, and educate production assistants on how to work collaboratively with the communities in which they shoot.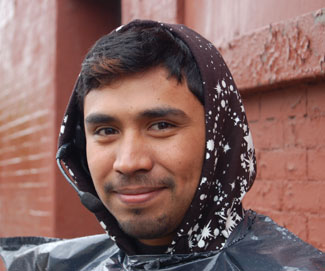 May 1, 2009 - Not every job takes you to Vegas for two months, but Mike Represa, a "Made in NY" PA, doesn't have just any job.

For the next two months, Represa will be working as a production assistant in the art department for Bravo's top-rated cooking competition show "Top Chef," using the skills he learned in the "Made in NY" Production Assistant Training Program.

Represa, who was born in El Salvador and raised in Coney Island, Brooklyn, always wanted to work in the film industry, but didn't know how to get into it. Instead, he delivered pizza and worked as a mechanic at family-run businesses. Eventually, he found out about the PA program after spotting a poster for it in a bus stop. He wasn't sure he'd get in, but he tried anyway and was pleasantly surprised when he received a call back.

Upon graduating in April of last year from Cycle 10, Represa soon found himself working in the very industry he always wanted to with jobs with "The Electric Company" and the upcoming The Taking of Pelham 123.

Lately, he's focused on reality TV. "I've worked on almost every Bravo show," he noted, like "Project Runway" and "Make Me a Supermodel," where he was a transport coordinator, making sure every vehicle involved in the production was on time with its driver. His hard work on those Bravo shows brought him to his current position with "Top Chef."

Interested in learning more about the "Made in NY" PA Training Program? Click here.