Patrick Raphael


Each month we showcase an individual who participated in the "Made in NY" PA Training Program. Click here for information on the free, month-long program developed in conjunction with Brooklyn Workforce Innovations and designed to create job opportunities for New Yorkers, connect New Yorkers with employers in the industry, and educate production assistants on how to work collaboratively with the communities in which they shoot.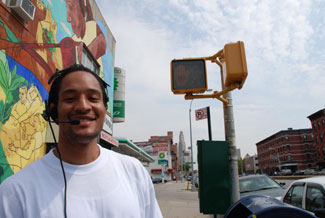 April 1, 2010 - For four months, it was Patrick Raphael's job to sort through the trash of ten households. As the green PA for the Planet Green show "Wa$ted" it was his responsibility to pick up and separate the garbage generated by the show's participants so the producers could determine their carbon footprint.

"One family had four newborns," he remembered. "There was a lot of dirty diapers." Raphael, who considered himself to be green before his involvement with the show, believes he's even more green now. "I recycle more and find out what can be recycled and what's biodegradable."

"Wa$ted" was Raphael's first long term project after graduating in August 2009, from the "Made in NY" Production Assistant Training Program, which provides free training to young New Yorkers who otherwise lack connections in the film and television industry.

Since then, he's worked on various projects like HGTV's "Home Rules." Over the last few months, he teamed up with a friend to produce an online talk show called "Culture Variety," which airs on YouTube. The two recently traveled to Albany to cover the Drop the Rock campaign which advocates for a repeal of the Rockefeller Drug Laws. The visit will soon be covered on an upcoming episode of "Culture Variety."

Raphael, who experienced incarceration personally, sees his video work as a way of "being the voice of the people inside." His work focuses on topics, like the everyday lives of men and women living in prison, that don't normally get covered by the media.
Raphael, who is also known professionally by the nickname Sla, had always been interested in music videos and films, but when he first found out about the "Made in NY" Production Assistant Training Program, he was sure that since he had a record, the program wouldn't be interested in him. To the contrary, Brooklyn Workforce Innovations, which runs the program developed in partnership with MOFTB, welcomes applicants with past criminal convictions in all of its programs, and is proud to count hundreds of formerly-incarcerated New Yorkers among its graduates.

"At first it was a shock they'd take me," remembered Raphael, "but they know who has the energy and really wants to break into the industry."

Raphael's short term goals include working in the art department, and eventually he'd love to become a director. As he climbs the ladder and shoots his own work, he's also part of an even bigger production: helping raise his fourteen month old son.

Interested in learning more about the "Made in NY" PA Training Program? Click here.