Martin Peterson


Each month we showcase an individual who participated in the "Made in NY" PA Training Program. Click here for information on the free, month-long program developed in conjunction with Brooklyn Workforce Innovations and designed to create job opportunities for New Yorkers, connect New Yorkers with employers in the industry, and educate production assistants on how to work collaboratively with the communities in which they shoot.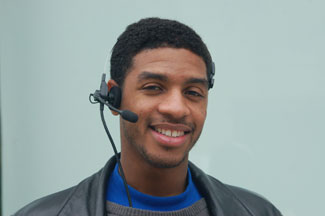 May 10, 2010 - Martin Peterson gets to know a lot of people on his job. As the background PA on the upcoming HBO series "Boardwalk Empire," it's his responsibility to coordinate the background artists hired for the day, getting them signed in, making sure they've gone through hair, makeup and wardrobe, and ready for their scenes.

On a given day, Peterson may be working with fifty to as many as a hundred twenty-five background artists, and he prides himself on being able to learn everyone's names. "By the afternoon, even if it's a hundred twenty-five people, I get to know everyone's names," he sad. "It makes it more personable, and it's better for the production."

On days when he's working with fifty background artists, he arrives on set two and a half hours before call time to get everyone situated.

As a graduate of cycle 12 of the "Made in NY" Production Assistant Training Program, Peterson learned first hand how time consuming working in the production industry can be. "[The training] was intense but exciting at the same time," he said. He advises future "Made in NY" Pas to learn as much as they can. "Your talents will gear you toward what you want to do."

Since graduating, the Bronx native, who now lives in Brooklyn, has worked on short films and low budget films. Other credits include the first season of "Nurse Jackie" and the recent HBO original movie, "You Don't Know Jack." His job on "Boardwalk Empire," which began in October 2009 has been his longest so far.

"I never thought I could be in production," he said. Interested in perhaps working in the medical profession, he had a job at a supermarket when a friend showed him an ad for the "Made in NY" PA Training Program, which is run by the nonprofit Brooklyn Workforce Innovations. Now he'd like to one day be an assistant director.

How does he handle working on a period piece where modern hairstyles and mustaches don't exactly fit in a series that takes place in the 1920s? "It's all about time management," he said. "It really is an enjoyable experience."

Interested in learning more about the "Made in NY" PA Training Program? Click here.