Meaghan Lyric Perez


Each month we showcase an individual who participated in the "Made in NY" PA Training Program. Click here for information on the free, month-long program developed in conjunction with Brooklyn Workforce Innovations and designed to create job opportunities for New Yorkers, connect New Yorkers with employers in the industry, and educate production assistants on how to work collaboratively with the communities in which they shoot.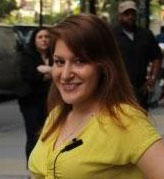 August 1, 2012 - Meaghan "Lyric" Perez has had to overcome a lot of obstacles in her life. In 2001, her family lost her stepfather, a firefighter who died in the World Trade Center. She dropped out of high school, but was later able to get her GED. She then put herself through college, graduating in three years.

After interning at a music company and working as a dispatcher for a black car service, she eventually found her calling with the "Made in NY" Production Assistant Training Program after finding an ad on Craigslist. The training, she hoped, would give her the kind of experience she needed to work in the entertainment industry.

Going through the program was somewhat taxing, she remembered. "They train you for what it's like on set," she said. "They teach social skills, how to network, how to always have a notebook in your back pocket." The most important thing she learned was to be humble, always work hard and maintain a good reputation.

Following her graduation from the program as part of Cycle 13, Perez, a Queens native who now lives in Harlem, worked on everything from reality shows to feature films, commercials to music videos. Since 2010, her focus has been reality television. Her credits include "Glamour Girls," "Mob Wives," "What Not to Wear" and "The Next Big Thing."

She's currently working on a new reality series based out of Washington Heights for MTV. It's her first producer credit, and she relishes her work as an associate producer as she follows a group of young adults from the upper Manhattan neighborhood as they try to make it in the worlds of entertainment, fashion and athletics.

Given the nature of the show, her schedule is as unpredictable as the events that unfold for the cameras. "It'll be 8am to 8pm one day," she said, "and the next it could be 5am to 5pm." She works through the weekend and is off in the middle of the week instead. "I'm such a workaholic. I appreciate what I do. I love my crew. I love, love, love being creative."

Thinking about her future, Perez thought at first she might want to become an executive producer, but now she's more interested in working for a network to help pick out the shows that make it on-air.

Working in production has given her the opportunity to be appreciated for the work she does. "There's no other job like it," she said. "You meet new people who work as hard as you. You get to really love what you do. It's not a job; it's a career."

Interested in learning more about the "Made in NY" PA Training Program? Click here.