Katiana Noel


Each month we showcase an individual who participated in the "Made in NY" PA Training Program. Click here for information on the free, month-long program developed in conjunction with Brooklyn Workforce Innovations and designed to create job opportunities for New Yorkers, connect New Yorkers with employers in the industry, and educate production assistants on how to work collaboratively with the communities in which they shoot.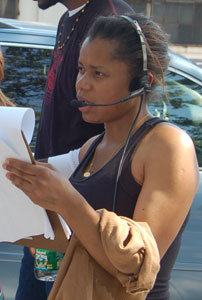 July 1, 2009 - As a "Made in NY" Production Assistant, Katiana Noel knew that being a knowledgeable, reliable and hardworking PA would help her advance into a higher crew position – she just didn't realize how quickly it would happen.

Her journey started back in 2007. "I was working at a gym, and I was telling a co-worker that if you don't have PA experience, it's so hard to get a job in the industry," she remembered. Her co-worker suggested the "Made in NY" PA Training Program, which was developed in partnership between the MOFTB and Brooklyn Workforce Innovations.

After being accepted into the program, the West Harlem resident found herself facing the rigorous demands of training. Classes were intense, she remembered, and the schedule meant she had to wake up early and spend all day in training. "It's a tough experience, but that's the way I liked it. There was no sugar coating."

As part of their training, program director Katy Finch teaches the PAs how to use a copy machine. Noel thought it was silly – "Who needs to learn how to use a copy machine?" After graduation BWI placed her as an office PA on Law & Order: Criminal Intent, and on her very first day her boss asked her to make copies. This being TV production, it wasn't ordinary copies, but minimizing sides, or script pages.

"There's a specific way to do it that every office PA should know. If BWI had not covered that in class, I would have been in trouble. I was caught laughing to myself," said Noel. "Never take anything for granted." Six months later that same office PA job was the stepping stone to her current role.

As transportation coordinator Noel works with Teamster captains from shows like 30 Rock, Law & Order, SVU, Criminal Intent, Royal Pains and each year's crop of pilots. She ensures that all of productions are in compliance with Department of Transportation federal regulations. Unlike crew members that go on hiatus, Noel works year-round. In between seasons, she reviews and organizes records from previous shows. Her favorite part of the job is working with the Teamster members. "It's a tight-knit community," she said. "There's camaraderie and respect."

Interested in learning more about the "Made in NY" PA Training Program? Click here.