Coleridge (Ahsaan) Mitchell


Each month we showcase an individual who participated in the "Made in NY" PA Training Program. Click here for information on the free, month-long program developed in conjunction with Brooklyn Workforce Innovations and designed to create job opportunities for New Yorkers, connect New Yorkers with employers in the industry, and educate production assistants on how to work collaboratively with the communities in which they shoot.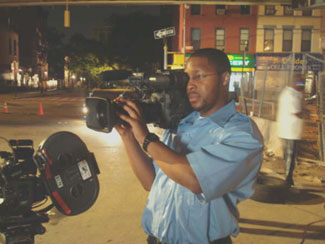 July 2, 2008 - The first time Coleridge (Ahsaan) Mitchell walked on set, he knew he belonged there. Mitchell, who has always been interested in film, had taken some screenwriting classes in the past, but it wasn't until he found the "Made in NY" Production Assistant Training Program while searching online that he knew he found the program that would truly give him his start in the entertainment industry.

"The training is really intense," said Mitchell. "It grooms you to be comfortable on set and in an office."

His credits include PA work on "The Electric Company," The Taking of Pelham 123, Hancock, a music video, and numerous commercials. It was his work on the documentary Miracle on 42nd Street that taught him the inner workings of producing a documentary.

Inspired, Mitchell began working on his own documentary called Brownsville chronicling the Brooklyn neighborhood where he grew up. When Mitchell discovered a major motion picture was filming in the area, he hoped to get footage of the production to add to his documentary. He approached the producers of Brooklyn's Finest with his request, and going a step further, the producers hired him to shoot footage for them. Now Mitchell serves as the film's "behind the scenes" videographer. Directed by Antoine Fuqua and starring Richard Gere, Ethan Hawke, and Don Cheadle, Brooklyn's Finest follows the lives of three Brooklyn cops.

It's more autonomous work than what he's used to as a PA. "I set my own pace," said Mitchell. "I answer to myself."

In the future, he hopes to continue on the path the "Made in NY" PA Training Program has created for him on and produce documentaries.

Interested in learning more about the "Made in NY" PA Training Program? Click here.