JC Mendoza


Each month we showcase an individual who participated in the "Made in NY" PA Training Program. Click here for information on the free, month-long program developed in conjunction with Brooklyn Workforce Innovations and designed to create job opportunities for New Yorkers, connect New Yorkers with employers in the industry, and educate production assistants on how to work collaboratively with the communities in which they shoot.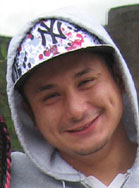 July 1, 2007 - Born and raised in Queens, JC Mendoza had wanted to work in film and television since he was a child. After high school he tried talking to crews he found shooting on location and researched film schools, but he was unable to find a way to work in production and could not afford course fees. Nevertheless he was willing to do whatever it took to get into the industry, including saving all of his money for future coursework. After browsing the Mayor's Office of Film, Theatre and Broadcasting website, he found information on the "Made in NY" PA Training Program and realized there was another option.

Mendoza applied, gained entry and completed the program in its fourth cycle. Since then, he has been working almost every week, including on large scale films (Columbia Pictures's Made of Honor, Warner Bros.'s I Am Legend and NBC Universal's American Gangster), along with reality television projects, independent features, and some corporate training/instructional videos.

Mendoza has enjoyed his reality television work in particular because the crews have been small and supportive. Fellow crew members have offered advice and job leads. "While in the program they teach you that if you do what you're supposed to do and you work hard, people will refer you to a potential job," said Mendoza. "I couldn't wrap my brain around that initially. I had to get used to that, to being freelance." After only a few months, however, Mendoza believes he's received nearly 95% of his work from referrals.

Most recently, Mendoza traveled to parts of Pennsylvania and South Carolina for corporate training videos. He hopes to continue that trend. "I'd like to travel and go to other countries," Mendoza said. "I'd like to see the world behind my work." Looking further, Mendoza wants to one day "work as an independent television producer and sell some of my work to television networks."

Not that Mendoza is getting ahead of himself. While Mendoza wants to continue "making a name for [himself] in the industry," he hasn't forgotten what led him to all of these opportunities in the first place. Mendoza recently came back to the "Made in NY" PA Training Program to talk to Cycle 6 students about his experiences post-graduation. Mendoza wants students to know that "in due time, they'll be accomplishing what they set out to do, too."

Interested in learning more about the "Made in NY" PA Training Program? Click here.