Orla Manning


Each month we showcase an individual who participated in the "Made in NY" PA Training Program. Click here for information on the free, month-long program developed in conjunction with Brooklyn Workforce Innovations and designed to create job opportunities for New Yorkers, connect New Yorkers with employers in the industry, and educate production assistants on how to work collaboratively with the communities in which they shoot.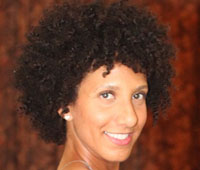 July 2, 2012 - Four years ago, Orla Manning was in retail working as a sales associate, unsure of where her life was headed, but after learning useful skills from the "Made in NY" PA Training Program, she's now a field producer hard at work on a new MTV television series. "I don't know where I would be [without the program]," she said.

Manning had always been interested in entertainment and the music industry, but had no access into the field. Her mom saw an ad on a bus shelter for the "Made in NY" Production Assistant Training Program, which helps diverse New Yorkers prepare for entry-level jobs in production, and told her daughter she should try it. "I thought it would be good to do something different," said Manning.

She applied to the program and found out on a Friday that she had gotten in and that classes began on Monday. "The program teaches you so many things," she said, "like how to react when people are mean to you and to always have a notebook so you can take notes."

Most jobs in the entertainment industry tend to be freelance, but Manning has had the unusual experience of only working on two freelance gigs since she graduated from the program in 2008. Everything else has been staff positions. She worked for an entertainment law firm for a year and a half, which helped her learn the legal side of the entertainment industry. "Now I can read a contract and understand what goes into it," she said.

After that, she volunteered for the All Stars Project and shot videos for the organization with her friends from the "Made in NY" PA Training Program. "I wanted to be a producer so it was good practice."

In 2010, she got a job at Gigantic Productions, and she's still there. "I started as a PA/executive assistant and worked my way up," she said. Now she's a field producer and director of a new MTV reality series that's filming this summer in Washington Heights. Her favorite part of the job is working with the talent. "I get along with them," she said. "I like meeting different people and staying in contact with them."

She and her friends sometimes talk about what they think they'd be doing if they hadn't become "Made in NY" PAs. "I'm motivated so I would still be trying [to make it], but who knows how fast I would have gotten there?"

In the future, Manning, who lives in Harlem, would like to spend more time in the editing room and experience more of the post-production process. "I would like to take the story to the end." Her goal is to one day become an executive producer and develop her own show ideas.

"I'd like to come up with ideas for reality shows with better role models for young people," she said.

Interested in learning more about the "Made in NY" PA Training Program? Click here.