Will Mahr


Each month we showcase an individual who participated in the "Made in NY" PA Training Program. Click here for information on the free, month-long program developed in conjunction with Brooklyn Workforce Innovations and designed to create job opportunities for New Yorkers, connect New Yorkers with employers in the industry, and educate production assistants on how to work collaboratively with the communities in which they shoot.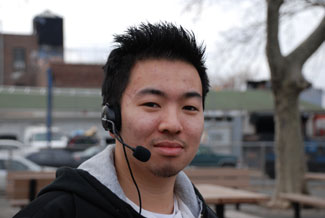 March 1, 2010 - Will Mahr has tried on many hats since graduating from the "Made in NY" Production Assistant Training Program in February 2009. He's worked on reality TV, feature films, and even as a set decorator for a photo shoot with Eric Clapton.

"The program has definitely changed my life," said Mahr. "It's a blessing. It has opened my eyes to new opportunities that lie ahead."

After graduating from high school, Mahr headed to California to learn martial arts with the hope of becoming an instructor or stunt man. After an injury sidelined him, he came back to New York and headed to community college while at the same time trying his hand at everything from computer science to business management, accounting to physical therapy, pharmacy to automobile electronics professional. Nothing made him happy until he learned about the "Made in NY" Production Assistant Training Program.

"The training was definitely a mind-opening experience," said Mahr. "They taught me the ropes of the business and helped me to reach my goals. The training program also taught walkie lingo, so you're not lost when you enter the industry."

What surprised him the most about the training was that, not only did Brooklyn Workforce Innovations teach the PAs about the business, but they also teach them about themselves. "Prior to the program, I lacked confidence and was a bit shy," remembered Mahr. "By the end, I was more open and felt like I could manage and coordinate a crew."

Since graduating from the program last year, Mahr has worked on a host of projects, including commercials (Maybelline), television series ("Chopped"), music videos (JoJo) and feature films (Pariah, for which he was the production coordinator, Yelling to the Sky, and Remember Me).

His work on Remember Me, the new film coming to theatres in March, was only supposed to last one day. After quickly loading wardrobe boxes into a truck, he helped out the production office with filing, copying script notes, organizing the office, and picking up paychecks. The production supervisor and coordinator were so impressed that a week later they called him up to wrap out the production office and help out the accounting department. This then led to opportunities to work on other big films.

"He's been a PA for a year, and he's already a coordinator," marveled Katy Finch, the "Made in NY" PA Training Program director. From day one of his training, Mahr knew the program could be his stepping stone to where he wants to be. "He broke out of his shell and is now getting to do what he always wanted," said Finch.

He's currently getting ready to start work as a 1st AD on an independent film, followed by a gig as a key PA on a commercial.

He noted that, though the hours are long, every day is something different. "I am not stuck doing the average 9 to 5 job anymore."

Mahr, who aspires to one day be director or producer, has tried on other positions this past year as well – production coordinator, B camera operator, and key PA, among others. Along the way, he found that he's good at running a set and has applied for the 2010 DGA AD Training Program. He also hopes to direct his first feature film at the end of the year.

He urges future "Made in NY" PAs to stay focused and not to give up. "Offer a hand and show you are eager to learn," he suggested. "Ask questions and listen. Everyone wants to see you succeed. And keep a smile on your face!"

Interested in learning more about the "Made in NY" PA Training Program? Click here.