Willie Leon


Each month we showcase an individual who participated in the "Made in NY" PA Training Program. Click here for information on the free, month-long program developed in conjunction with Brooklyn Workforce Innovations and designed to create job opportunities for New Yorkers, connect New Yorkers with employers in the industry, and educate production assistants on how to work collaboratively with the communities in which they shoot.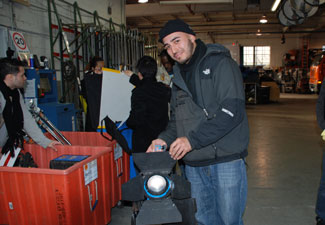 December 1, 2009 - The unexpected loss of a parent is a difficult situation for anyone to come to terms with, and for Wille Leon, it took the "Made in NY" Production Assistant Training Program to help him rebuild his life and start over again.

Leon's mother died suddenly and unexpectedly. She had suffered from a brain aneurysm that had developed into a blood clot, which ultimately caused her to have a stroke. The experience sent Leon into a foggy existence of confusion, an existence he was fortunately able to break free of with help from the PA Training Program.

"I became a different person," said the cycle 13 graduate. Before enrolling in the four-week-intensive program that trains young New Yorkers for entry level jobs in the film industry, Leon lacked motivation and ambition in his life "I had no goals for myself," he remembered. He was in a regressive state until his uncle forwarded him an email about the program. It took him a year to finally make the decision to apply.

Through enrolling in the program, Leon was not only able to gain knowledge about the production industry, but also a clearer insight into his own life and aspirations. Learning about productions and dealing with different types of people and situations enabled Leon to achieve both professional and personal growth. "I didn't take life seriously before… but now I see the opportunities in life," said Leon, who's twenty-three.

Living in Corona, Queens, Leon is always busy, sometimes working six days a week. Among the productions he's worked on are the feature film Morning Glory, where he was hired as a staff PA, and various television commercials. Currently he is working as a staff PA on the production team for the medical drama "Mercy."

For Leon, one of the most rewarding aspects of the program is not the perks or the pay but being able to show his family and program coordinators the success he has achieved. Leon is very appreciative of the support he has received and works hard not to disappoint them. "I want to show them that their effort is not is vain."

Interested in learning more about the "Made in NY" PA Training Program? Click here.