Madeline Kossman


Each month we showcase an individual who participated in the "Made in NY" PA Training Program. Click here for information on the free, month-long program developed in conjunction with Brooklyn Workforce Innovations and designed to create job opportunities for New Yorkers, connect New Yorkers with employers in the industry, and educate production assistants on how to work collaboratively with the communities in which they shoot.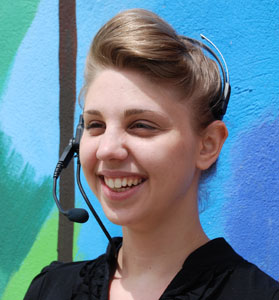 April 1, 2011 - After being let go from a job in 2008, Madeline Kossman found herself unemployed for nearly a year, but since graduating from the "Made in NY" Production Assistant Training Program, she's been working almost non-stop for two years.

After attending an orientation, during which she learned about the program that trains diverse New Yorkers to work in entry level positions in the film industry, the Queens native waited to hear if she made it into the program and kept herself busy by waitressing at two different jobs. "I've always been a hard worker, willing to do any task."

That persistence paid off, earning her a spot in Cycle 14 of the program. Once she started, she was impressed by the knowledge Brooklyn Workforce Innovation's staff shared with the PAs-in-training about what it takes to work in production. "I didn't know what I was getting into," she said. "I had watched movies before and never realized what goes into making them. Now I know I can actually do it."

Kossman also credits BWI with providing her with personal goals. "The staff was fantastic. They showed us how to get what we want out of this [experience]." From the first week of training she identified the art department as the place she wanted to work. She has made real strides in achieving that goal already.

Since becoming certified as a "Made in NY" PA, she's worked on numerous productions including The Other Guys, "Project Runway" (where she worked as a coordinator in the casting department) and a handful of other television shows. She has worked as an art cirector on an independent short and was the head of the Set dressing team for the "Made in NY" PA Film Festival this past January. Currently, she's the shop PA, or shop manager, for two shows: USA's "Royal Pains" and "Ringer," a new CBS pilot. Whenever a job comes her way that she can't take because she's already booked, she always makes sure to try and pass it on to another "Made in NY" grad.

Her duties as shop manager include opening up the stage, providing the staff with craft services, working on labor reports and communicating between the production office, art department and construction department. "I'm responsible for knowing where people are," she said. "I'm the person others come to with questions. I like being in the know."

Kossman is also eager to keep the stage environmentally friendly. "We have a dumpster for cardboard and plastics that we keep away from the other waste," she said. "We also have canteens and water refill stations to cut down on plastic water bottles." She uses a lot of biodegradable products like plates and tries to help everyone be more aware of what they throw away.

In the near future, Kossman hopes to take the test to become an art department coordinator. "I feel like I'm on the right track."

Interested in learning more about the "Made in NY" PA Training Program? Click here.