Diana Klein


Each month we showcase an individual who participated in the "Made in NY" PA Training Program. Click here for information on the free, month-long program developed in conjunction with Brooklyn Workforce Innovations and designed to create job opportunities for New Yorkers, connect New Yorkers with employers in the industry, and educate production assistants on how to work collaboratively with the communities in which they shoot.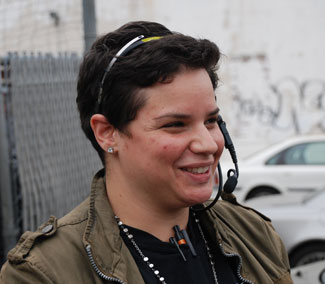 January 2, 2013 - Early wake-up calls and a commute from Staten Island were all in a day's work for Diana Klein as she began her journey to become a "Made in NY" Production Assistant. Now a veteran of dozens of productions, she's able to say, "It was worth every second."

Before becoming a "Made in NY" PA, Klein looked for work in the audio recording field. "I couldn't find a thing," she said. Jobs coordinating events at a night club and DJing didn't leave her fulfilled, but from the moment she went on her interview for the "Made in NY" Production Assistant Training Program, she knew she would commit her entire future to a career in production.

"It changed my whole life," she said. "I am so grateful for the experience."

Since her graduation as part of Cycle 22 in June 2011, Klein has worked on over 50 different sets, on everything from reality shows like "Project Runway" to episodic series like "The Good Wife." She's currently shooting a documentary about Hurricane Sandy as well as working on the 10th season of "What Not to Wear."

Her life has also changed in many ways. "I am much more confident in making my dreams a reality," she said. She's also excited to go to work each day "because I absolutely feel fulfilled when I step foot on set, get my walkie, introduce myself to new faces and catch up with old ones." She also enjoys traveling with her crew and seeing new places.

The busy life that comes with being a production assistant can also mean being away from family and friends for long periods of time. "They know that I am happy, and as long as that's how I feel, then they completely understand why I am so busy," she said. "They are also very proud of me for coming such a long way."

While she was a key PA on the 11th season of "Project Runway," she faced a personal crisis. "I had to tend to my sick grandmother down in Florida," Klein remembered. "She died when I got there. I had a difficult time then, but I know she is very proud of me and always watches over my family."

Despite these struggles, Klein continues to work toward her goal of becoming a 1st AC and eventually a camera operator. She's already achieved her goals of buying a new car and getting her own place in Staten Island. "I want to complete filming my documentaries, and one day [have] my own production company," she said. "I believe in this business, and I want to make a difference in people's lives.

"I am so grateful for everything I've been able to do and that my path continues on the road to success."

Interested in learning more about the "Made in NY" PA Training Program? Click here.