Klarissa Jackson


Each month we showcase an individual who participated in the "Made in NY" PA Training Program. Click here for information on the free, month-long program developed in conjunction with Brooklyn Workforce Innovations and designed to create job opportunities for New Yorkers, connect New Yorkers with employers in the industry, and educate production assistants on how to work collaboratively with the communities in which they shoot.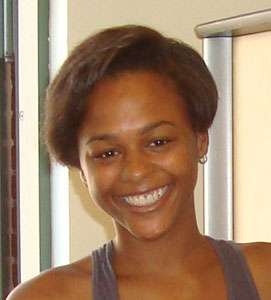 October 1, 2012 - In a little over a year since becoming a "Made in NY" Production Assistant, Klarissa Jackson has become a completely different person.

"My attitude was nasty, rude and completely unnecessary when I walked in that door," she remembered when she first applied for the free training program that prepares unemployed and underemployed New Yorkers with the skills they need to get entry level jobs in the production industry. "I didn't know if I could tame [my attitude], but I knew I had to in order to make it to graduation."

After four and a half weeks of classes and hands-on sessions in which she learned things like set etiquette and how to use a walkie talkie, Jackson became a certified "Made in NY" PA in August 2011. "The program challenged me in a different way than my cycle mates," she said. "It tested my personality and social skills every day. It taught me how to be an adult and realize why people need to choose their battles wisely. I got to grow with people who were like me, learn about almost everything you would need to know about the different productions and how to work on them."

The Washington Heights native had always known she wanted to work in the entertainment industry and always had a drive to succeed. "As the youngest in the house, I always felt I had to make it, wherever it was, because I didn't want to be the youngest and not working."

When she made the decision to pursue the "Made in NY" PA Training Program, at first her family couldn't understand why she would go after something that wasn't necessarily a guarantee, given the freelance nature of the industry. "Now they see I'm successful and good at it, and every time I update my mom, it's only with better news each time," she said. "They have to accept it."

Since graduating last year, the 23-year old has already worked on over 40 different projects, ranging from reality shows like "Celebrity Apprentice" to hip hop artist music videos. Her most challenging production so far was running the first team for a Cartoon Network kids show called "Team Toon." At the moment, she's working on The CW's "Gossip Girl," where "I am fortunate to have received a staff position." She starts work on "The Carrie Diaries," another CW show, beginning in October.

Eventually she hopes to make her days, join the DGA and work her way up to becoming a First Assistant Director and "be really, really good at it."

She's well aware of how much her life has changed since becoming a "Made in NY" PA. "I have become a different person," she said. "I've matured as an adult because of the program. I am successful because of the program. The program helped me not only have a career but be a better person, period."

Interested in learning more about the "Made in NY" PA Training Program? Click here.