Nicolena Iovino


Each month we showcase an individual who participated in the "Made in NY" PA Training Program. Click here for information on the free, month-long program developed in conjunction with Brooklyn Workforce Innovations and designed to create job opportunities for New Yorkers, connect New Yorkers with employers in the industry, and educate production assistants on how to work collaboratively with the communities in which they shoot.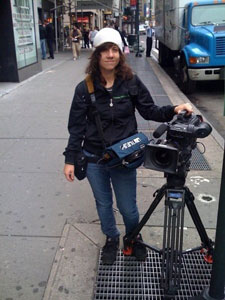 December 3, 2008 - If someone had told Nicalena Iovino she would film New York City from the inside of a helicopter, she wouldn't have believed them. But thanks to the "Made in NY" PA Training Program, she got just the opportunity to do so.

Two years ago, Iovino, a native of Glendale, Queens, was working various jobs, going from one to the next. Her aunt saw an ad in the newspaper for the PA program, and as soon as she was old enough, Iovino applied.

The experience was eye-opening. "Before the program, I had no direction, I didn't know what I wanted to do," she said. At the time, Iovino was plagued with self-doubt, but became a different person with just four weeks of intensive training from the PA program, learning the ins and outs of working on set.

"I was somebody who was lost, and in a month I was transformed," she remembered. "I learned so much about myself. I had no idea I was able to do something like this.

Soon after graduating from the program in May 2007, Iovino landed a job as the only PA for the HGTV show "Hidden Potential." Iovino spent two seasons traveling cross country with the show, which made stops in Illinois, Michigan, Colorado, California, and Oregon. She's since branched out to camera work, receiving so many offers she's had to turn down PA jobs. Through contacts from her first job, she was given the opportunity to shoot from the helicopter for the Discovery Channel show "American Wasteland."

Flying over New York Harbor and Manhattan for 30 minutes, Iovino filmed the Statue of Liberty, Ellis Island, the East Side, and Central Park, and views of Brooklyn and Queens, all from the backseat of a helicopter. "It's something I've always wanted to do."

"I'm twenty-two years old, and I didn't go to college," she said. "Now I'm inspiring so many of my friends. If they want something, they know they can do it. "

People take their whole lives to discover what they want to do, she noted. After being a part of the "Made in NY" PA Training Program, she added, "Now, I'm shooting out of a helicopter! I'm a walking testament for anyone who thinks they don't have it in them to do something like this."

Interested in learning more about the "Made in NY" PA Training Program? Click here.