Brian Hightower


Each month we showcase an individual who participated in the "Made in NY" PA Training Program. Click here for information on the free, month-long program developed in conjunction with Brooklyn Workforce Innovations and designed to create job opportunities for New Yorkers, connect New Yorkers with employers in the industry, and educate production assistants on how to work collaboratively with the communities in which they shoot.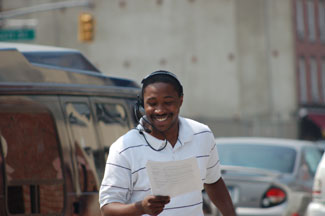 October 2, 2008 - Brian Hightower knows what it means to work hard to achieve his dreams. A graduate of the "Made in NY" Production Assistant Training Program, Hightower is taking advantage of every opportunity that comes his way to pursue his career in production.

After hearing about the "Made in NY" PA Training Program through a flyer his uncle found, Hightower signed on to be part of Cycle 7 during the summer of 2007. "I was oblivious to what it takes to make a production work," he said. During the intense four weeks of training, Hightower picked up the skills he needed to work effectively on set.

Since graduating from the "Made in NY" PA Training Program, Hightower has worked on Nickelodeon's "The Naked Brothers Band," a 1-800-Flowers commercial, and numerous industry special events. Currently, he's a PA for "Access Hollywood," a job he started earlier this year. His favorite part of his work is visiting interesting locations and meeting fascinating people.

"I don't have formal media training," explained Hightower. "The other people on set – they're there because of someone in their family or a friend or because they did an internship." An opportunity like the PA training program is not lost on him, and he advises future "Made in NY" PAs to "learn the basics, be humble, and hustle hard."

A single father, Hightower works constantly to balance his personal life with his professional. "It really takes a community," he said, noting with appreciation the support he receives from his family who look after his daughter while he's at work.

"I want to leave a legacy for my daughter," added Hightower. His goal is to continue writing and one day produce a screenplay he's written. "I just want to leave positive footprints in the world for my daughter."

Interested in learning more about the "Made in NY" PA Training Program? Click here.