Paul Hernandez


Each month we showcase an individual who participated in the "Made in NY" PA Training Program. Click here for information on the free, month-long program developed in conjunction with Brooklyn Workforce Innovations and designed to create job opportunities for New Yorkers, connect New Yorkers with employers in the industry, and educate production assistants on how to work collaboratively with the communities in which they shoot.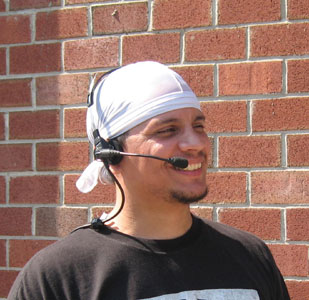 April 1, 2008 - When Paul Hernandez attended an open house at Brooklyn Workforce Innovations, he initially went to learn more about their cable installation training program. Instead, he came away with a career in the entertainment industry.

After successfully completing the "Made in NY" PA Training Program, Hernandez works as a production assistant for Bravo's reality show "Make Me a Supermodel." Along with his duties as a runner – picking up and dropping off equipment, cameras, and lights, he also works as an assistant cameraman and with the art department, helping to set the look of the stage.

The "Made in NY" PA Training Program has been an invaluable learning experience for Hernandez. "The program is a blueprint for everything you're going to experience working in the industry," he noted. "It gives you a big advantage and tells you what to expect in the business."

Of the numerous projects he's worked on since graduating from the program in the summer of 2007 – including the upcoming feature film Push, the reality show "Pageant Place," the pilot for "New Amsterdam," and a Hugo Boss fashion show – the project that interested him the most was a documentary about 9/11 called Project Rebirth. Working as a PA for the film, he witnessed first hand accounts of how people's lives were affected by the tragedy, which has left an indelible impression on Hernandez.

Before he started the program, Hernandez was a self-employed musician, selling beats to local artists, and went to school to learn how to shoot music videos. His instructors thought he had a good eye for film and suggested he branch out instead of restricting himself to just music videos. Now, he hopes one day to be a cinematographer, and as a graduate of the "Made in NY" PA Training Program, he's well on his way to accomplishing his goal.

Interested in learning more about the "Made in NY" PA Training Program? Click here.