Dorothy Hall


Each month we showcase an individual who participated in the "Made in NY" PA Training Program. Click here for information on the free, month-long program developed in conjunction with Brooklyn Workforce Innovations and designed to create job opportunities for New Yorkers, connect New Yorkers with employers in the industry, and educate production assistants on how to work collaboratively with the communities in which they shoot.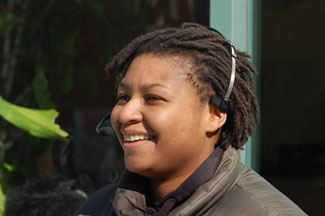 October 1, 2009 - A true New Yorker, Dorothy Hall was born and raised in Harlem; she even lives in the same apartment building where she was raised. She's also a proud graduate of the "Made in NY" Production Assistant Training Program.

Hall, 27, always wanted to work on film sets. Although she received a BFA in film from The City College of New York, Hall was unable to make the connections necessary to land a job on an actual production. She redirected her focus and began training for the FDNY. In the midst of training, her mother handed her a flyer for the "Made in NY" PA Training Program. She took it as a sign and applied for the program.

After her intensive training with Cycle 9 of the program, Brooklyn Workforce Innovations began placing her on productions. Currently she's working on the first season of the USA Network series "White Collar." She has been a part of a variety of departments including locations, grip/electric, and the production office. At the moment, she is working in the costume department as a production assistant. "I am a worker. I'm an anything PA, and I love my job," she said.

Hall gets her strength and her drive from a very special role model. "My inspiration, my role model, and my mentor is my mother," she said. "She is the strongest woman I know."

Hall's mother has suffered as a diabetic since the age of 25, and three years ago she was diagnosed with kidney failure. Even though she was ill, she still got up and went to work every single day. Hall admired that determination. Her mother inspired her to seek out her goals and dreams. Two years ago Hall donated a kidney to her mom. "Now she's healthy and very proud of my career in the film industry."

Among Hall's many goals is her desire to become part of the grip and electrical union. She loves hanging lights and the entire technical aspect of filmmaking.

As for long term goals, she also has aspirations to direct independent films. "The truth is, I'm always working on productions," said Hall.

Since "White Collar" films on a Monday to Friday schedule, her weekends are free to direct her own projects. She is currently filming a documentary. When that wraps she is going to move onto a short film. All in a day's work for a "Made in NY" PA.

Interested in learning more about the "Made in NY" PA Training Program? Click here.