Chantelle Geathers


Each month we showcase an individual who participated in the "Made in NY" PA Training Program. Click here for information on the free, month-long program developed in conjunction with Brooklyn Workforce Innovations and designed to create job opportunities for New Yorkers, connect New Yorkers with employers in the industry, and educate production assistants on how to work collaboratively with the communities in which they shoot.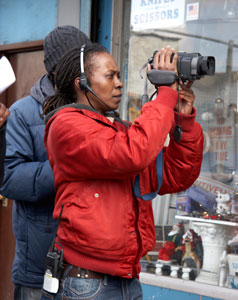 April 2, 2012 - After getting laid off from her job at a gym as a personal training manager, Chantelle Geathers, better known as Telly, thought she might find a new job by searching the employment pages of NYC.gov. What she found there was a life-changing experience with the "Made in NY" Production Assistant Training Program.

"I always wanted to be in the industry," she said. Finding the posting about the free training program that prepares diverse New Yorkers for entry-level jobs in the entertainment industry felt like a sign to her. "I thought it was worth a shot."

As part of cycle 21, Geathers went through four and a half weeks of "intense" training. "The program is so awesome. It's hard to put it in a box. You learn life skills, not just about being a PA, but interacting with people, building your brand, and all about self empowerment."

The best thing she learned was that "you can be your own worst enemy and your own best friend; it's up to you."

Soon after graduating from the program in March 2011, the Bronx native who now lives in Brooklyn was hired as a set PA for "Delocated" on Adult Swim. The production team brought her on to another show and then a pilot. She then got her first position as a key PA at the Nickelodeon upfronts. "That was great," she remembered. "It's a great way to move up in the field."

Geathers has also worked on "Chopped" as well as on a lot of VH1 shows like "LaLa's Full Court Life." Her biggest job is still to come. She's about to begin work as the background PA for a NBC pilot entitled "Notorious." "I'm really looking forward to that. It'll be a chance to test myself out."

Her favorite part of working in production is having the chance to meet so many talented people. "Everything that New York is [about] is what a crew is."

In the future, she hopes to become either an assistant director or a producer. "Someone told me to do both," she said.

Asked if she could have envisioned five years ago where she'd end up, Geathers reflected that she thought maybe she'd be at a mundane job, something that paid the bills. "I never expected to be as happy as I am now," she said.

Interested in learning more about the "Made in NY" PA Training Program? Click here.