Alexander Etseyatse


Each month we showcase an individual who participated in the "Made in NY" PA Training Program. Click here for information on the free, month-long program developed in conjunction with Brooklyn Workforce Innovations and designed to create job opportunities for New Yorkers, connect New Yorkers with employers in the industry, and educate production assistants on how to work collaboratively with the communities in which they shoot.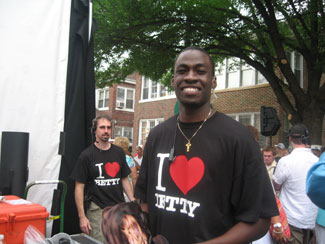 January 6, 2009 - For aspiring filmmaker Alexander Etseyatse, being a "Made in NY" PA means a chance to learn a craft and earn a living, working alongside seasoned crews, while he continues to pursue his own projects in locations as far away as the Ivory Coast.

In the year since his graduation from the "Made in NY" Production Assistant Training Program, Etseyatse has worked on several major NYC-based TV productions including "Ugly Betty," "Fringe," and "Law & Order." He has also worked on a variety of features, most recently reshoots of a Wes Craven film entitled 25/8.

When he's not working on other people's productions, Etseyatse is busy building his own film company, AE Films. One of his original films, Caught Up won top honors at the "Made in NY" Production Assistant Training Program Film Festival last year.

Currently, Etseyatse is preparing for a trip to the Ivory Coast in Africa where he will spend three weeks preparing and shooting his next film on a shoestring budget. "Ever since I did location work on the Ivory Coast, I have wanted to go back," Etseyatse said of his approaching trip.

The film, which also shot two days in Brooklyn over the Thanksgiving weekend, is a fictional story that follows a hesitant young soccer player from NYC to his mother's homeland in Africa during a summer vacation. The work won't be over once Etseyatse gets back. "I not only do the pre-production and the production, but the post work, too." His first trip to the area, from January to March in 2008, gave him a better understanding of the country. He was inspired to make the journey for his film because the Ivory Coast had "a certain spirit that cannot be recreated."

Etseyatse's drive to advance his career has also led him to help those around him. He's bringing fellow "Made in NY" PAs to West Africa with him to work on the film, and he cast his twin brother in Caught Up. While the busy life of working full time can leave little time for much else, Etseyatse has found a great balance in pursuing his career and his lifelong dreams.

Interested in learning more about the "Made in NY" PA Training Program? Click here.