Bryant Donohue


Each month we showcase an individual who participated in the "Made in NY" PA Training Program. Click here for information on the free, month-long program developed in conjunction with Brooklyn Workforce Innovations and designed to create job opportunities for New Yorkers, connect New Yorkers with employers in the industry, and educate production assistants on how to work collaboratively with the communities in which they shoot.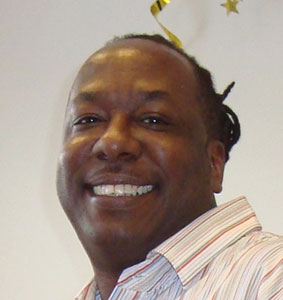 January 3, 2012 - As the new year starts, a stellar "Made in NY" PA reflects on the year he had as a production assistant in New York City, a year that saw him working with a superhero and the Fonz. Bryant Donohue, a graduate of the "Made in NY" Production Assistant Training Program, has been busy ever since he graduated from the program in 2010.

Originally from Brooklyn and now living in Harlem, he just finished working on two Showtime pilots and spent the previous months PAing on projects like "White Collar," "Royal Pains," New Year's Eve, Tower Heist, Son of No One, Extremely Loud and Incredibly Close, Men in Black 3 and The Amazing Spider-Man.

His favorite part of working in production is interacting with the crew. "So many people are involved, and you meet so many great people," he said.

Donohue has also had some interesting encounters with some of the various actors from the productions he's worked on. While on location in Queens with Son of No One, he met Al Pacino as he escorted him to set. He found himself star struck for a moment, but said that Pacino was a really cool and funny guy.

While working on Madison Ave on another project, USA's "White Collar," Donohue found himself answering a question from actor Henry Winkler, who was passing by and was curious to know what was the name of the production filming. Two days later, Donohue had moved on to "Royal Pains" and was surprised to see Winkler's name on the call sheet. He introduced himself, and Winkler immediately remembered him.

Prior to embarking on his career in production, Donohue worked in the fashion industry, before getting laid off in the middle of the economic crisis. While looking for work, he came across a post on Craigslist about the "Made in NY" PA Training Program. Already a DJ, he wanted to get more involved with sound and first thought of public access TV before the PA program piqued his interest. "It fit what I was into," he said.

While the training itself can be intensive and requires a lot of commitment from the participants, Donohue was ready for it. "I was really eager," he said. "I knew beforehand I wanted to be there."

Along with learning the usual skills of using a walkie talkie and proper set etiquette, the most valuable lesson Donohue took away from the program was the importance of listening. "You have to pay attention all the time. You can't slip up. You really have to listen."

He's incredibly grateful that the "Made in NY" PA Training Program existed in the first place. "I'm older than the normal PA," he said. "Katy [Finch] and the program saw that I was taking the training seriously. They believed in me."

Interested in learning more about the "Made in NY" PA Training Program? Click here.