Erick Charles


Each month we showcase an individual who participated in the "Made in NY" PA Training Program. Click here for information on the free, month-long program developed in conjunction with Brooklyn Workforce Innovations and designed to create job opportunities for New Yorkers, connect New Yorkers with employers in the industry, and educate production assistants on how to work collaboratively with the communities in which they shoot.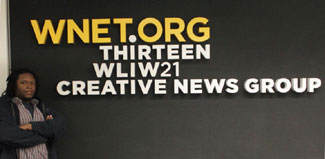 November 1, 2010 - Since graduating from the "Made in NY" PA Training Program in 2006, Erick Charles has worked his way into a job that keeps him smiling. "I know people who come home smiling because they're done with work, but I'm smiling because I'm anxious to go back to work," he said.

Charles, a resident of Queens Village, had always had an interest in television and film, but it wasn't until he found the "Made in NY" PA Training Program that he was able to find work doing what he truly loved. The program is a collaboration between the Office of Film, Theatre and Broadcasting and Brooklyn Workforce Innovations (BWI), a nonprofit organization.

After certification, BWI found Charles his first paid job as a PA on I Am Legend as well as gigs on several smaller projects. He didn't really find his niche, though, until a director on a commercial he was working on suggested that he try his hand at editing. PA Training Program Director Katy Finch began tutoring Charles in editing in her spare time. While also doing PA work, he started looking for internships in that field and began working at Soho Editors and assistant editing at a public television station. Once he was able to secure a project for the film Brooklyn's Finest, he started to interview for staff editing positions.

Today Charles is working as a staff member in post-production at PBS. He admits it was a long journey to get where he is, starting with his first internship in 2007. Charles believes he has found his calling.

"I interviewed with post-production [at PBS], and we matched up," he said. "I was looking for a place to grow, and they were looking for someone with a mastery of the [editing] program and a desire to learn." In addition to his job at PBS, Charles works for another production company, Griot's Roll, and is beginning work on a documentary.

To other "Made in NY" PAs and those considering a career in the entertainment industry, Charles' advice echoes his experience and perseverance. Don't give up!" he said. "You have to follow what you want and what you love. It may seem like it's not happening right away, but you have to keep on digging."

Interested in learning more about the "Made in NY" PA Training Program? Click here.