Myo Campbell


Each month we showcase an individual who participated in the "Made in NY" PA Training Program. Click here for information on the free, month-long program developed in conjunction with Brooklyn Workforce Innovations and designed to create job opportunities for New Yorkers, connect New Yorkers with employers in the industry, and educate production assistants on how to work collaboratively with the communities in which they shoot.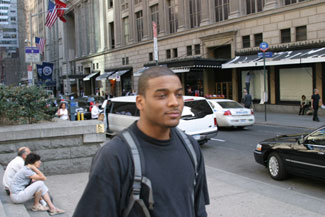 May 1, 2007 - Thanks to the training Myo Campbell has received in the "Made in NY" program, he has worked on everything from the largest production in the City's history (I Am Legend) to a Joss Stone music video shoot.

At first, Campbell was attempting to get a commercial driving license (CDL) at the Fifth Avenue Committee, a non profit organization. Ironically, Fifth Avenue is the organization that oversees Brooklyn Workforce Innovations, the non profit organization that facilitates the "Made in NY" PA Training Program. He said he stumbled upon a flyer for the program and the rest is history.

"The license was just a way to make some money," explains Campbell. "But I saw a flier that said, 'Careers in Entertainment' and thought, 'I've always wanted that!'"

Myo, who enrolled in the program's 2nd cycle of the program, which began in March 2006, said he learned new skills, but the program is also about "enhancing a lot of the qualities you possess," says Campbell. "It emphasized skills I already had, like having a good work ethic, having thick skin and not complaining or explaining."

Campbell believes the program's emphasis on never complaining has been his best asset, catching the eyes of many production managers.

"People have praised me for not complaining," Campbell says. "The program prepares you to be prepared."

Despite having worked on some great projects, Campbell has only been on the job for a year. "I've worked in different areas and deeply enjoyed myself," explains Campbell. "I want to find out what 'locations' is like. I want to learn more about directing and producing. I need to know more before I can decide exactly what it is I want to do."

Luckily for productions in the area, he will be available to both work and learn even more about NYC's entertainment production industry.

Interested in learning more about the "Made in NY" PA Training Program? Click here.