Rodney Byerson


Each month we showcase an individual who participated in the "Made in NY" PA Training Program. Click here for information on the free, month-long program developed in conjunction with Brooklyn Workforce Innovations and designed to create job opportunities for New Yorkers, connect New Yorkers with employers in the industry, and educate production assistants on how to work collaboratively with the communities in which they shoot.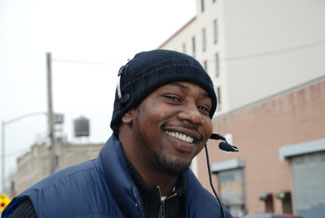 March 1, 2011 - A few years ago, when Rodney Byerson's restaurant failed, the Harlem native decided it was time for his life to go in a completely different direction. He applied to the "Made in NY" Production Assistant Training Program, and just a year after graduating, he's gone from being a PA to a production coordinator with a pilot for the National Geographic Channel.

"It's very challenging," he said of his new position. "You're coordinating gear, making sure the crew is happy and that everything is on schedule." When he's on set, he also serves as the unit production manager.

His move up the ladder in production comes courtesy of the training he received from the "Made in NY" PA Training Program. "It's a great program because it sets you up for a career," he said. "Everything they taught me in the program, I'm applying to this job, like communication skills and staying positive."

It was a big transition going from owning a restaurant and being the one making decisions to becoming the one who has to carry them. "As a PA, you have to roll with the decisions," he said.

Byerson is amazed how quickly he's moved up in his career. In the short time since becoming a "Made in NY" PA, he's worked on "The Oprah Winfrey Show," "Martha," and several feature films.

As a production coordinator, he's now looking to hire fellow graduates of the "Made in NY" PA Training Program to work on the pilot. It's his way of giving back to the program that started him on his new career.

"I'm blessed," he said. "I'm thankful and humbled by the experience."

Interested in learning more about the "Made in NY" PA Training Program? Click here.