Alma Bruderman


Each month we showcase an individual who participated in the "Made in NY" PA Training Program. Click here for information on the free, month-long program developed in conjunction with Brooklyn Workforce Innovations and designed to create job opportunities for New Yorkers, connect New Yorkers with employers in the industry, and educate production assistants on how to work collaboratively with the communities in which they shoot.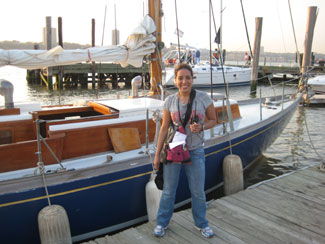 August 1, 2008 - Growing up and working in vibrant, energetic cities like Caracas, Venezuela, and Bogota, Colombia, Alma Bruderman's big move from South America to New York City felt more like the next natural step rather than a major lifestyle change. With an energy and drive that landed her a job as a location assistant for "Law & Order," this graduate of the "Made in NY" Assistant Training Program was destined to make it in New York.

Bruderman began working in the Colombian entertainment industry nearly seventeen years ago, building a reputation as a hardworking actress on a soap opera. An acting coach encouraged her to move to New York City, and it only took her six months to learn English before diving into the New York City entertainment industry, which was no small feat. "There's so much work, so much talent and so many opportunities," she said. "My essential goal is not to miss my opportunity."

Bruderman had just earned an Associates Degree in Arts from Nassau Community College when a professor recommended the "Made in NY" PA Training Program. Developed in partnership between the Mayor's Office of Film, Theatre and Broadcasting and Brooklyn Workforce Innovations, this free four-week training program provides practical instruction for local New Yorkers who want to get their start working on productions.

Hard work, respect and creativity are never lost in translation—a principle Bruderman referenced when she noted "the productions in Colombia are the same in New York." Bruderman quickly clicked with production work in New York. "When I was working in Colombia I was always very close with the directors and producers, so in many cases [in New York] I can understand their needs faster."

This attitude earned Bruderman a position with "Law & Order," a job that keeps her more than busy. "My average workday is usually a sixteen hour day. I'm the first one to arrive and the last one to leave." As a location assistant, Bruderman works constantly to maintain the location (which includes prepping it and wrapping up the work), as well as resolving any issues that come up on the spot.

Despite the hectic pace of Bruderman's nearly 20 years of experiences behind and in front of the camera, working on two continents and speaking two languages, she maintains a refreshingly calm piece of advice for those looking to make it in New York: "Prepare to keep your cool, be focused and think ahead." And for Alma herself? "I just want to be happy with what I am doing, whatever it is."

Interested in learning more about the "Made in NY" PA Training Program? Click here.