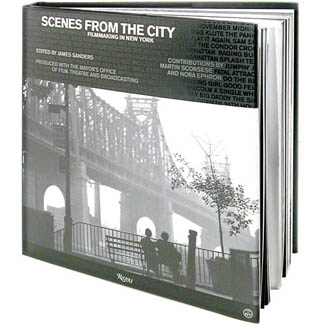 On October 17, 2006, Rizzoli published Scenes from the City: Filmmaking in New York 1966-2006, edited by James Sanders and produced with the Mayor's Office of Film, Theatre and Broadcasting. Featuring over 250 color and black- and-white images – including dozens of rare and unusual production stills – the book traces the city's groundbreaking, forty-year cinematic history decade by decade, recalling some of the best-remembered films, places, and moments of each period and highlighting the street-style work of directors as diverse as Martin Scorsese, Woody Allen, Spike Lee and Sidney Lumet. Along the way, it offers a revealing look at some of the legendary New York neighborhoods and districts—from SoHo to Times Square, the East Village to the Upper West Side, Coney Island to Harlem—that have been unforgettably captured on celluloid over the years.
Opening with a survey of landmark location films from the late 1940s to the early '60s (from On the Town and On the Waterfront to Breakfast at Tiffany's and West Side Story) and closing with a round-up of memorable television scenes filmed on the city's streets (from "David Letterman" to "Sesame Street," "Cagney & Lacey" to "The Sopranos"), this lavishly illustrated volume not only provides a vivid testament to the forces that have reshaped American film over the past four decades, but a startling portrait of the changes that have transformed the city itself in those same years.
The book includes an expansive conversation with the director Martin Scorsese and a personal essay by the director and writer Nora Ephron, as well as a major essay by the editor James Sanders (author of the acclaimed Celluloid Skyline: New York and the Movies) on the rise of location shooting in the city and the impact of the Mayor's Office of Film, Theatre and Broadcasting since its founding four decades ago.