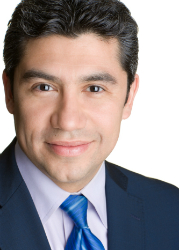 Luis Castro is Acting Commissioner of the New York City Mayor's Office of Media and Entertainment. An established leader in the multi-faceted arenas of media, nonprofit and government, Castro has a proven track record of building dynamic partnerships and impactful programs across these sectors.
Castro has over 14 years of experience in media and entertainment. He has worked as a consultant with film and television studios and nonprofit organizations to craft strategies, programs, and partnerships that identify and cultivate diverse artists and executives. As an executive with HBO Programming in Los Angeles, Castro conceived an emerging talent initiative that he managed across the programming divisions—including HBO Films, HBO Entertainment, and Cinemax. Before joining HBO, Castro led corporate grantmaking as Executive Director of Philanthropic Initiatives at Time Warner in New York City. During his tenure, Castro created and oversaw The Time Warner New Works-New Voices Fund, a multi-million dollar fund for best-in-class artist development programs that support emerging playwrights and screenwriters.
Castro served as Director of Education Policy at the NYC Partnership, where he devised and executed education initiatives and structured public-private alliances between leading New York corporations, the NYC public school system, and community groups. He began his career in Washington, DC, as a legislative aide to U.S. Senator Paul Simon, where he shaped education and school-to-work policy. Castro was then named a presidential appointee in the U.S. Department of Education during the Clinton Administration, working closely on legislative issues with Education Secretary Riley.
Castro is a member of the Board of Directors of New Dramatists. He earned his B.A. from Harvard University.